Latest Edition of C. Owen Paepke's 'Seinfeld Election' Series Tackles Climate Change
Press Release
-
updated: Jan 11, 2017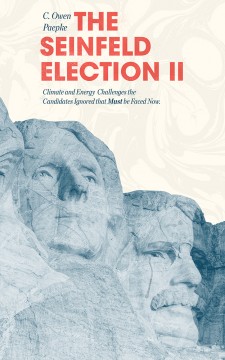 Phoenix, Arizona, January 11, 2017 (Newswire.com) - The 2016 presidential election was one of the most contentious in history. Who can forget the accusations, finger-pointing and name calling?
For author C. Owen Paepke, all the sound and fury exchanged in last year's campaigns signified nothing when it came to dealing with the issues that will genuinely affect voters. This lack of serious debate around authentic and important topics inspired Paepke to author a series of eBooks he calls the Seinfeld Election Series, a label that sharply assesses last year's political road show by comparing it to the wildly-popular 1990s sitcom that was famously "about nothing."
Paepke's newest volume in his series, The Seinfeld Election II: Climate and Energy Challenges the Candidates Ignored That Must Be Faced Now has just been released. The eBook takes on the topic of global warming – a complex issue that Paepke believes was reduced to simplistic sound bites last year.    
"Climate change was simply one more wedge issue," he writes, "with each side calculating that a dogmatic approach would help politically a little more than it hurt."
Like the first volume in his popular series, Paepke's new booklet is presented as a briefing on climate change – one free of politics and red state/blue state posturing. He deliberately avoids discussions detailing carbon cycles, cap and trade or how various climate change models work. Instead, he focuses on concrete information that can help readers make informed decisions about the causes of global warming, the risk it poses and feasible solutions – all presented in a plainspoken, nonpartisan manner.
Yes, Paepke concludes, melting polar ice caps and rising water levels are harbingers of bad things to come, but he also discusses the economic fallout that will come as traditional power sources are phased out before adequate substitutes are available. He examines the wide gap between opinion polls supporting a response to climate change and daily behavior—such as record numbers of recreational vehicles ("global warming on wheels") sold in 2016. His pragmatic probing is not restricted to U.S. borders. "Try telling India … it must build out its power and transportation grids without the fossil fuels used by all advanced economies and its arch-rival China," he writes. Any solution must be both environmentally and market-friendly or it will ultimately fail for both.
Most importantly, Paepke reminds readers that CO2 emissions are cumulative in nature. Any legitimate solution must stop them altogether, not reduce them. This means 2015's famed Paris Agreement was not a solution at all, but only another empty promise. Paepke believes politicians that call for reductions are as misguided as those who deny there is a problem at all, and that any kind of political solution is simply too fragile. They can never be better than the results of the next election.
"Partisans on both sides of the global warming divide are wrong—dangerously and radically wrong," Paepke writes. But he concludes: "Global warming is a soluble challenge, if confronted honestly, realistically, and soon."
If this sort of straight talk appeals to you, you can find The Seinfeld Election II: Climate and Energy Challenges the Candidates Ignored That Must Be Faced Now here.
About C. Owen Paepke and the Seinfeld Election Series
C. Owen Paepke is a noted writer, attorney, and chemist. His 1993 book The Evolution of Progress, was named the best nonfiction book of the year on NPR's Talk of the Nation.  Kirkus called it a "truly original thesis."
The first edition of his Seinfeld Election series, Economic Challenges the Candidates Ignored That Must Be Faced Now, released in 2016, examined the country's current economic picture. Kirkus called it an "astute primer on the nation's economic vulnerabilities." A third volume, The Seinfeld Election III: Can the Center Hold? is planned for early 2017.                                                           
Source: C. Owen Paepke
Share:
---
Categories: Elections, Environmental Protection, Politics
Tags: 2016 Election, climate change, global warming
---