Las Vegas Waste Water Plant at Risk to Water Treatment Issues Due to Settlement
Press Release
-
updated: May 19, 2018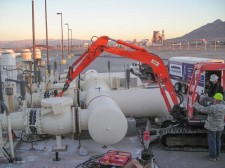 LAS VEGAS, May 19, 2018 (Newswire.com) - Foundation settlement threatened to halt the operations of the BNR Waste Water Plant for the City of Las Vegas, meaning a grand water supply problem for many residents. Using wide flange beams and helical piles, and working at night, Ram Jack Las Vegas successfully lifted and stabilized the treatment system for good.
Wastewater treatment is imperative to provide safe, clean water to citizens. That's why, when the BNR Waste Water Plant was affected by the settlement, managers knew repairs were needed and soon to prevent a crisis. Thus, Ram Jack Las Vegas was contacted to evaluate the situation.
For this project, Ram Jack worked alongside HDR Engineering to design a professional and reliable foundation solution. Collaborating, they decided to use five wide flange beams and nine helical piles, five of which would support the main beam while the rest would lift and support the manifold system.
To allow normal plan operations to continue unhinged during the day, Ram Jack worked during after hours throughout the night. Once pavement holes had been created, helical piles were installed along with beam brackets, and the beams were put in place. In all, the system was lifted 2.5" for maximum practical recovery and no leaks were noted at any joints or welds in the water system. Everyone involved was thoroughly satisfied with the results and relived the job was completed.
Source: Ram Jack
Share:
---
Categories: Civil Engineering
Tags: beam brackets, construction, flange beams, foundation, helical piles, Ram Jack, settlement, stabilize
---