Las Vegas Trial Lawyer Dennis Prince Obtains 7-Figure Jury Verdict on Behalf of Car Accident Victim Hit by a Forklift
Press Release
-
updated: Oct 15, 2019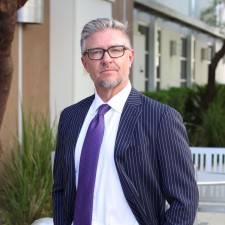 LAS VEGAS, October 15, 2019 (Newswire.com) - Dennis Prince, one of Las Vegas, Nevada's most respected trial lawyers, has obtained a seven-figure jury verdict on behalf of a car accident victim facing severe and debilitating injuries.
Following four days of jury selection, the trial began Sept. 13, 2019. The case arose from a June 19, 2013 incident in which Mr. Bahram Yahyavi's Dodge Charger, which he was driving as part of his job with Chapman Las Vegas Dodge, was struck by a forklift driven by a former employee of the defendant, a local construction company.
The forks penetrated Mr. Yahyavi's front end from the passenger's side, caused the front windshield to cave into the car, and came dangerously close to Mr. Yahyavi's head.
Mr. Yahyavi sustained a severe and debilitating injury to his neck as a result of the collision. After Mr. Yahyavi exhausted all conservative care options, which included chiropractic care, physical therapy, and pain injection therapy, he underwent a five-level cervical spine fusion surgery.
Following a 15-day jury trial, the company was found liable for causing the subject collision and Mr. Yahyavi's injuries. The jury unanimously awarded Mr. Yahyavi damages in the amount of $5,870,283.24.
About Prince Law Group
Prince Law Group is an award-winning Las Vegas-based boutique litigation law firm dedicated to the aggressive representation of clients suffering from the devastating injuries caused by the negligence of another. Built upon the extensive background and experience of Dennis Prince in the areas of trial practice, personal injury, insurance law, and commercial litigation, Prince Law Group offers a sophisticated level of representation and a team approach where each trial lawyer plays to his or her strengths in order to effectively protect our client's rights up to the time of trial. We comprehensively and seamlessly prepare each case for trial in court. Prince Law Group also pursues forms of alternative dispute resolution such as mediation and arbitration when it is in the best interest of the client. Learn more by visiting our website at thedplg.com.
Source: Prince Law Group
Share:
---
Categories: Law News
Tags: dennis prince, jury verdict, las vegas injury lawyer, las vegas lawyer, las vegas trial lawyer, personal injury lawyer, prince law group
---