Las Vegas Residential Rental Statistics for 2018: More Growth for 2019?
Press Release
•
updated: Jan 7, 2019
Las Vegas rent prices may continue growing in 2019, according to one Las Vegas property manager reporting local rental data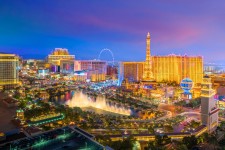 LAS VEGAS, January 7, 2019 (Newswire.com) - A national study showed that Las Vegas had the highest year-over-year rent increase in the U.S., at 6.6 percent as of October 2018. However, Casey Powers at Strawberry Property Management reports more detailed data for the Las Vegas rental market.
Las Vegas Rental Stats by Property Type, Unit Type, Area. While CoreLogic's report has great information, Powers wanted to get more local details. "We pulled MLS data for rentals in Las Vegas by property type, unit type and geographic area," says Powers. The results showed that different property types in different areas had varied results for 2017-2018. Additionally, the research shows that, overall, the number of units leased decreased from 2017 to 2018. This may indicate that renters are staying put longer. Increased tenant retention may be a good thing for Las Vegas investors.
Multifamily rentals. Overall, multifamily rentals (privately owned apartment buildings) in the Las Vegas area had a small 0.26 percent average rent increase on studio and one-bedroom units, an average rent decrease of 3.47 percent on two-bedroom units and an average rent increase of 6.32 percent on three-bedroom units. Also, there was a decrease in the average time on market and overall decrease in the number of units leased from 2017 to 2018.
Condo rentals. Average rent prices for condos increased overall for the Las Vegas metro area. Findings showed average rent increases of five percent for studio and one-bedroom units, 5.2 percent average increase for two-bedroom condos and 2.9 percent average rent increase for three-bedroom units. The number of condo units leased decreased for single and two-bedroom units, while the number of three-bedroom leased condos increased slightly at 1.2 percent, from 2017 to 2018.
Single-family home rentals in Las Vegas. CoreLogic's report showed that average SFR rent prices increased in 2018. In addition, Powers' MLS research showed that the number of units leased decreased on single-family homes as well. The number of units leased reduced by an average 5.1 percent, between two-, three- and four-bedroom homes, from 2017 to 2018. These numbers include townhouses and houses. Data showed that average rents increased in all areas of town (some more than others). Get the details here.
2019 Outlook for Las Vegas area rentals. Powers says, "We looked at several factors to get an idea where the Las Vegas rental market might be headed. These include job growth, population growth, unemployment decrease and the home-buying market. All of these factors seem to point to continued growth in rent prices for Las Vegas and Henderson in 2019."
Contact:
Casey Powers
Phone: 702-329-8899
Email: info@strawberrypm.com
Source: Strawberry Property Management
Tags
Additional Links