Larson Electronics Releases Tractor LED Light Kit for Caterpillar Cat Challenger MT 865C Tractors
Press Release
•
updated: Mar 30, 2019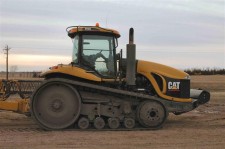 KEMP, Texas, March 30, 2019 (Newswire.com) - Larson Electronics, a Texas-based company with over 40 years of experience spearheading the industrial lighting sector, announced the release of a tractor LED light kit for Caterpillar Cat Challenger MT 865C tractors. This kit comes with four LEDEQ-3X3-CPR LED work lights in a flood beam configuration, two LEDEQ-3X3-CPR LED work lights in a spot beam configuration and two LED25WRE-CPR work lights.
The LLP-CAT-TR-MT865C-V1 tractor LED light kit for Caterpillar Cat Challenger MT 865CT tractors features the LEDEQ-3X3-CPR light bar producing 2,975 lumens using 45 watts on 9V-64V DC and an electrical current of 2.8A. This light has a color temperature rating of 6000K to 6500K and can withstand immersions up to 3.3 feet. This light's housings are made of aluminum with a polycarbonate lens and U-bracket style trunnion mount.
Larson Electronics' tractor kit for Caterpillar Cat Challenger MT 865CT tractors utilizes the LED25WRE-CPR ultra-compact 25-watt LED light producing 2,750 lumens with low amp and voltage draw. This light provides a 50,000 lifespan with 12V to 32V compatibility and is combined with a high output reflector to produce a 10-degree narrow spot beam of 1,000 feet long combined with a 60-degree flood beam.
The LED25WRE-CPR light can withstand rapid temperature changes of minus 40 degrees Celsius to 85 degrees Celsius and is waterproof up to three meters. The housings are made of extruded aluminum with polycarbonate lenses. This light features smaller features and can fit where traditional lights cannot and is suspended with a form-fitting trunnion yolk-type mount. The lights in this cab light upgrade kit are easy to install by mounting to existing lamp holders for halogen lamps on the Caterpillar Cat Challenger MT 865C tractor.
About Larson Electronics LLC: Larson Electronics LLC is a manufacturer of industrial lighting equipment and accessories. The company offers an extensive catalog of industry-grade lighting and power distribution products for the following sectors: manufacturing, construction, food processing, oil and gas, military, marine and automobile. Customers can benefit from the company's hands-on, customized approach to lighting solutions. Larson Electronics provides expedited service for quotes, customer support and shipments.
For further information, please contact:
Rob Bresnahan, President and CEO
Toll-free: 1-888-351-2363
Int'l: 214-616-6180
Fax: 903-498-3364
E-mail: sales@larsonelectronics.com
Source: Larson Electronics
Additional Links