Larson Electronics Releases Solar/Wind 30-Foot LED Light Tower, 160W Wind Generator, 12V 250aH Gel Cell Battery With Charger
Press Release
•
updated: May 13, 2019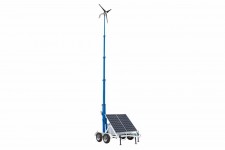 KEMP, Texas, May 13, 2019 (Newswire.com) - Larson Electronics, a Texas-based company with over 40 years of experience spearheading the industrial lighting and equipment sectors, announced the release of a solar and wind LED light tower that can elevate equipment up to 30 feet. This unit features a telescoping light tower on a tandem axle trailer that folds and a rotating boom allowing for 360-degrees of rotation. This tower features two 265-watt solar panels and a 500aH capacity gel cell batter bank with 250aH being usable.
The SPLT-.53K-LM30-1XN3B-WG.-1X24AC-SGB-ACC-DTLR7 solar and wind LED light tower features two 265-watt solar panels mounted to a frame angled at 45-degrees, solar charging system, battery bank and 24V AC terminal block and manual crank-up mast mounted on the trailer. This system is a 0.53KW solar generator that replenishes amp hours of usable battery capacity per day (assuming 5.5 hours of peak charging sunlight). This unit delivers 12 volts and comes with a 120V or 240V battery charger when sunlight is unavailable.
Larson Electronics' LED solar and wind light tower features a 30-foot, line-in cord terminated in a general area cord cap. This tower also allows operators to power or charge 24V AC devices via a 24V AC terminal block operating at a maximum 500 VA at 24V AC. This light tower features a 160-watt wind generator and three blades, which can produce 40 kWh per month when exposed to 13 mph winds. This unit is made of permanent mold cast aluminum and features a microprocessor-based smart controller and electric torque control for overlapped protection.
This unit comes equipped with 30 feet of 16/3 SOOW cord fitted with an industrial grade cord cap. The five-stage light mast can be extended to 30 feet and collapsed to 13.5 feet. This tower is made of square steel tubing and can be extended to full height via an included 1000 lb rated hand winch with a 3/16-inch galvanized steel cable. This unit is suitable for use outdoors to deploy cameras, security devices and other work site equipment.
About Larson Electronics LLC: Larson Electronics LLC is a manufacturer of industrial lighting equipment and accessories. The company offers an extensive catalog of industry-grade lighting and power distribution products for the following sectors: manufacturing, construction, food processing, oil and gas, military, marine and automobile. Customers can benefit from the company's hands-on, customized approach to lighting solutions. Larson Electronics provides expedited service for quotes, customer support and shipments.
For further information, please contact:
Rob Bresnahan, President and CEO
Toll-free: 1-888-351-2363
Int'l: 214-616-6180
Fax: 903-498-3364
Email: sales@larsonelectronics.com
Source: Larson Electronics
Additional Links