Larson Electronics Releases Pneumatic Light Tower Mast, 4.5' to 15', 10/3 Coiled Internal Wiring
Press Release
•
updated: May 20, 2019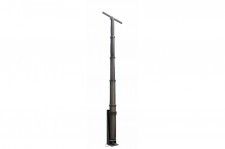 KEMP, TEXAS, May 20, 2019 (Newswire.com) - Larson Electronics, a Texas-based company with over 40 years of experience spearheading the industrial lighting and equipment sectors, announced the release of a pneumatic light tower mast with internal wiring. This light mast is designed for lifting heavy equipment in outdoor locations and features 10/3 coiled cable for internal wiring. This unit can be elevated to heights between 4.5 feet and 15 feet.
The PLM-15-5S-FM-10.3 pneumatic light tower mast features a 5-foot whip of cable at the top to make mounting equipment easier. This unit is made of durable high strength heat treated aluminum tubing and features five sections with a locking top mounting plate for easy removal of equipment. The mast is elevated using a customer bought or provided air compressor and features an air release valve at the base of the tower.
Larson Electronics' pneumatic light tower can hold up to 600lbs of equipment and is surface-mount compatible via four 5/8" pre-drilled anchor holes at the base of the assembly with the anchor holes accepting 9/16" anchor bolts. This unit is ideal for various electronic equipment, including lights, speakers, screens, cameras, fans, and more and is suitable for use in outdoor settings, construction sites, camp sites, military sites, roadways, stadiums, and more.
About Larson Electronics LLC: Larson Electronics LLC is a manufacturer of industrial lighting equipment and accessories. The company offers an extensive catalog of industry-grade lighting and power distribution products for the following sectors: manufacturing, construction, food processing, oil and gas, military, marine and automobile. Customers can benefit from the company's hands-on, customized approach to lighting solutions. Larson Electronics provides expedited service for quotes, customer support and shipments.
For further information, please contact:
Rob Bresnahan, President and CEO
Toll-free: 1-888-351-2363
Int'l: 214-616-6180
Fax: 903-498-3364
E-mail: sales@larsonelectronics.com
Source: Larson Electronics
Tags
Additional Links