Larson Electronics Releases Explosion Proof Switch, CID1&2, CIID1&2, 10 Amps at 250 Volts
Press Release
-
updated: Feb 7, 2019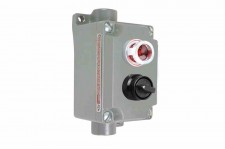 KEMP, Texas, February 7, 2019 (Newswire.com) - Larson Electronics, a Texas-based company with over 40 years of experience spearheading the industrial lighting and equipment sectors, announced the release of an explosion proof switch rated for use in Class I, Divisions 1 & 2, and Class II, Divisions 1 and 2 hazardous locations. This unit comes equipped with one colored incandescent pilot light and one 2-position selector switch and provides manual starting and stopping of small AC and DC motors.
The EPCS-1X2PS.DP-1XPL explosion proof switch is a heavy-duty switch rated 10 amps at 250 volts and operates on single-phase 120V AC, single-phase 240V AC or 24 DC and is enclosed in a cast iron box. This unit features a smooth faceplate and double flanges connecting the cover and mounting enclosure to provide flame tight joints via stainless-steel hex head screws. The unit's housing is made of malleable iron with a cast copper-free aluminum alloy cover and is epoxy powder coated.
Larson Electronics' explosion proof switch is rated for use in Class I, Divisions 1 & 2, Groups B, C and D; Class II, Division 1, Groups E, F, and G; Class II, Division 2, Groups F and G; and Class III, Divisions 1 and 2 hazardous locations. This NEMA 3, 7 (C, D), and 9 (E, F, G) rated unit comes with 1/2" NPT or 3/4" NPT hubs and dead-end or feed-thru configurations. Suitable applications include use in sewage or wastewater treatment plants, gas facilities, coal plants and more.
About Larson Electronics LLC: Larson Electronics LLC is a manufacturer of industrial lighting equipment and accessories. The company offers an extensive catalog of industry-grade lighting and power distribution products for the following sectors: manufacturing, construction, food processing, oil and gas, military, marine and automobile. Customers can benefit from the company's hands-on, customized approach to lighting solutions. Larson Electronics provides expedited service for quotes, customer support and shipments.
For further information, please contact:
Rob Bresnahan, President and CEO
Toll-free: 1-888-351-2363
Int'l: 214-616-6180
​Fax: 903-498-3364
E-mail: sales@larsonelectronics.com
Source: Larson Electronics
Share:
---
Categories: Energy
Tags: 2-position selector switch, AC motor switch, C1D1 Explosion Proof Switch, DC motor switch, Explosion Proof Switch, gas facility switch, offshore rig switch, sewage and wastewater treatment plant switch
---