Larson Electronics Releases Explosion Proof HD Security Camera, 120-240V AC, P2P Transmission
Press Release
-
updated: Feb 5, 2019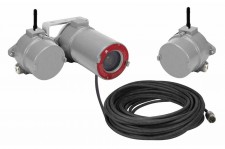 KEMP, Texas, February 5, 2019 (Newswire.com) - Larson Electronics, a Texas-based company with over 40 years of experience spearheading the industrial lighting and commercial equipment sectors, announced the release of an explosion proof HD security camera designed for security and remote observation ideal for indoor and outdoor hazardous settings. This 6.0MP HD high resolution camera offers 150-feet of visual range and 10x optical zoom with autofocus, and 62x digital zoom for maximum coverage.
The EXPCMR-IP-POE-OZ-6MP-WAP.2X-1227-50C-EPP explosion proof HD security camera offers wireless transmission of footage between the camera and receiving device that occurs via a point-to-point system with a transmission range of 100 feet. This compact unit has a 2.8-12mm motorized lens that automatically adjusts to focus and measures just 12.34" by 3.96" by 4.22" in size. The mounting base for this unit allows for accurate aiming with 90˚ of vertical adjustment.
Larson Electronics' explosion proof HD security camera is designed for harsh environments and is IP67-rated waterproof as the unit resists weather, dust, dirt, and humidity. This camera is rated for use in Class I, Divisions 1 and 2, Groups B, C, and D; Class I, Zones 1 and 2, Groups IIB+H2, IIA; Class II, Divisions 1 and 2, Groups E, F, and G; and Class III, Divisions 1 and 2 hazardous environments. This unit comes equipped with 50 feet of 16/3 SOOW cord fitted with an explosion proof cord cap.
This explosion proof camera operates on 120-240V AC, and link-up with the camera occurs via a customer provided standard cable (CAT6 ethernet cable). This unit can be mounted to flat surfaces like a ceiling or wall using an adjustable reverse pedestal style bracket, which allows for 90˚ or 360˚ rotation for accurate aiming. Suitable applications include monitoring, remote observation of external facilities, outdoor security of commercial buildings, and more.
About Larson Electronics LLC: Larson Electronics LLC is a manufacturer of industrial lighting equipment and accessories. The company offers an extensive catalog of industry-grade lighting and power distribution products for the following sectors: manufacturing, construction, food processing, oil and gas, military, marine, and automobile. Customers can benefit from the company's hands-on, customized approach to lighting solutions. Larson Electronics provides expedited service for quotes, customer support, and shipments.
For further information, please contact:
Rob Bresnahan, President and CEO
Toll-free: 1-888-351-2363
Int'l: 214-616-6180
Fax: 903-498-3364
E-mail: sales@larsonelectronics.com
Source: Larson Electronics
Share:
---
Categories: Business Security
Tags: explosion proof camera, explosion proof security camera, hazardous location security camera, remote observation camera
---