Larson Electronics Releases Explosion Proof 1080p Analog Submersible Camera, Day/Night, 120/240V
Press Release
-
updated: Mar 11, 2019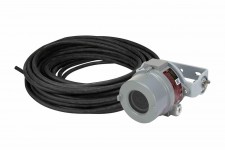 KEMP, Texas, March 11, 2019 (Newswire.com) - Larson Electronics, a Texas-based company with over 40 years of experience spearheading the industrial lighting and equipment sectors, announced the release of an explosion proof 1080p analog submersible camera for underwater monitoring in freshwater environments. This unit can be submerged up to 50 feet and is available in a fixed lens configuration and has a 3.6mm 90-degree lens for wide-area viewing.
The EXPCMR-SWP.FW-ALG-1080P-IC-1227-12.7-100C explosion proof 1080p analog camera provides operators with a live feed of underwater environments in freshwater hazardous locations. This unit can operate remotely from a centralized control room and features an infrared LED array for lowlight and nighttime visibility. The camera automatically switches over to IR mode when lux levels drop below present level and a true Day/Night infrared cutoff filter removal creates a sharp image transmitting with zero latency to HD resolution through a metal clad coax cable to customer-provided DVR systems.
Larson Electronics' explosion proof camera features a pressure-resistant 316 stainless-steel body and features 1 lux sensitivity and a 2-wire transmitter with a stainless-steel mounting bracket. This unit also features a built-in color CCD camera and a 1/3" CCD sensor. The lens features a 28-degree to 60-degree viewing angle with a minimum lens-to-object distance of 3.15" and is rated for use in Class I, Divisions 1 and 2, Groups B, C and D; Class I, Zones 1 and 2, Groups IIB+H2 and IIA, Class II, Divisions 1 and 2, Groups E, F and G; and Class II, Divisions 1 and 2.
This unit comes with 100 feet of 12/5 SOOW prewired cord and Kellum cord grip to provide power and video signal to the camera. This unit can be mounted to flat surfaces via the provided flat surface brackets. This unit is suitable for use in underwater operations in fresh water, underwater monitoring, remote observation of external facilities, and more.
About Larson Electronics LLC: Larson Electronics LLC is a manufacturer of industrial lighting equipment and accessories. The company offers an extensive catalog of industry-grade lighting and power distribution products for the following sectors: manufacturing, construction, food processing, oil and gas, military, marine and automobile. Customers can benefit from the company's hands-on, customized approach to lighting solutions. Larson Electronics provides expedited service for quotes, customer support and shipments.
For further information, please contact:
Rob Bresnahan, President and CEO
Toll-free: 1-888-351-2363
Int'l: 214-616-6180
Fax: 903-498-3364
Email: sales@larsonelectronics.com
Source: Larson Electronics
Share:
---
Categories: Security Services and Solutions
Tags: Explosion Proof 1080p Analog Submersible Camera, explosion proof remote observation camera, explosion proof security camera, Explosion Proof Submersible Camera, remote inspection submersible camera, submersible monitoring, tank and reactor monitoring, underwater monitoring
---