Larson Electronics Releases 65' Hydraulic LED Megatower®, (40) 150W LEDs, 110Gal Tank, 21' Trailer
Press Release
-
updated: Dec 18, 2019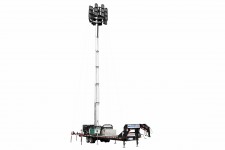 KEMP, Texas, December 18, 2019 (Newswire.com) - Larson Electronics, a Texas-based company with over 40 years of experience spearheading the industrial lighting and equipment sectors, announced the release of a 65-foot, hydraulic LED Megatower® mounted on a 21-foot trailer. This fold-over, seven-stage, hydraulic LED light tower offers operators the ability to deploy 40 150-watt LED light heads to elevations above 65 feet (ground to mast head) for a total of 74 feet (with 9 feet of light head assembly). This tower is powered by an 11KW Kubota diesel generator with a 110-gallon fuel tank.
The WCDE-11-HLM65-40XORS-LED hydraulic LED Megatower® features a water-cooled diesel engine powering an 11KW Kubota generator that supplies the current for 40 150-watt LED lamps. These LEDs produce 16,000 lumens of bright light output each for a total of 640,000 lumens of light. This light plant can operate for up to 43 hours continuously without interruption or refueling. This light tower can safely deploy up to 6,000 watts of LED lighting to heights above 65 feet (74 feet in total height, with 9 feet of light assembly).
Larson Electronics' hydraulic LED Megatower® can be collapsed to 22 feet and is made of heat-treated aluminum tubing with a 2.69-foot overlap in each section. The mast head attached to the upper section measures 90" wide by 109.5" tall and 2" by 2" by 1/4" thick and provides a durable platform for the 40 LEDs. The LEDs produce a 5000K color temperature and are configured in an even distribution pattern.
This IP67-rated unit can withstand rapid temperature changes of -40˚C to 85˚C and is waterproof. The boom on this unit is raised and lowered by a single hydraulic ram and extended or retracted by a second hydraulic system. The LEDs are grouped into banks of four with 10 total banks that are each wired to the NEMA 3R breaker box at the base of the mast.
The LEDs are controlled via an On/Off switched breaker per bank of four light heads. The battery charger and hydraulics are powered from within the breaker box with power to the box provided by an integrated 11KW genset. The genset houses a Kubota D722 diesel engine that powers the 11KW 120/240V brushless generator.
About Larson Electronics LLC: Larson Electronics LLC is a manufacturer of industrial lighting equipment and accessories. The company offers an extensive catalog of industry-grade lighting and power distribution products for the following sectors: manufacturing, construction, food processing, oil and gas, military, marine and automobile. Customers can benefit from the company's hands-on, customized approach to lighting solutions. Larson Electronics provides expedited service for quotes, customer support and shipments.
Source: Larson Electronics
Share:
---
Categories: Construction
Tags: 65' Hydraulic Megatower with Trailer, hydraulic light tower, hydraulic Megatower, Megatower
---