Larson Electronics Releases 5kVA Mobile Power Transformer, 230V-115V 1PH, N4X, 50' 10/3 SOOW
Press Release
-
updated: Oct 23, 2019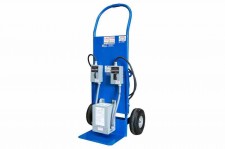 KEMP, Texas, October 23, 2019 (Newswire.com) - Larson Electronics, a Texas-based company with over 40 years of experience spearheading the industrial lighting and equipment sectors, announced the release of a 5kVA rated mobile power transformer that steps down single-phase 230V AC electrical current to single-phase 115V AC. This power distribution system allows operators to safely tap into and distribute 230V AC power from generators and direct grid power. This portable unit is suitable for outdoor use.
The MGL-KS-50C-230.1P-5KVA-115V-5C-N4X-2XL.30.WP mobile power distribution system is designed to operate with single-phase 230V AC that is stepped down to single-phase 115V AC. This unit comes with 50 feet of 10/3 SOOW line-in cord that brings single-phase 230V AC power via a waterproof L6-30P plug to the NEMA 4X-rated transformer and is stepped down to single-phase 115V AC. The secondary side features single-phase 115V AC brought in by a 5-foot 10/3 SOOW output whip terminated in a waterproof L5-30C connector.
Larson Electronics' mobile power transformer features a transformer and load center/distribution assembly that is mounted to an upright steel dolly cart style frame. The transformer is grounded to the frame via a grounding lug that is provided. Suitable applications include construction sites, plant maintenance and turnarounds, and more.
About Larson Electronics LLC: Larson Electronics LLC is a manufacturer of industrial lighting equipment and accessories. The company offers an extensive catalog of industry-grade lighting and power distribution products for the following sectors: manufacturing, construction, food processing, oil and gas, military, marine and automobile. Customers can benefit from the company's hands-on, customized approach to lighting solutions. Larson Electronics provides expedited service for quotes, customer support and shipments.
For further information, please contact:
Rob Bresnahan, President and CEO
Toll-free: 1-888-351-2363
Int'l: 214-616-6180
Fax: 903-498-3364
E-mail: sales@larsonelectronics.com
Source: Larson Electronics
Share:
---
Categories: Construction, Manufacturing, Chemicals
Tags: Mobile Power Transformer System, mobile transformer, power distribution system, temporary power distribution system, transformer
---