Larson Electronics Releases 300W Explosion Proof High Bay LED Light Fixture, CID1 CIID2, 42,000 Lumens
Press Release
-
updated: Feb 6, 2019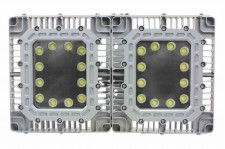 KEMP, Texas, February 6, 2019 (Newswire.com) - Larson Electronics, a Texas-based company with over 40 years of experience spearheading the industrial lighting sector, announced the release of an explosion proof low bay LED light fixture. This 300-watt fixture is meant for use in Classes I and II, Divisions 1 and 2 hazardous locations and produces 42,000 lumens of high-intensity light rated for 60,000 hours and has an 80% lumen retention.
The EPL-HB-2X150LED-RT-D-V2 explosion proof LED light fixture features 0-10V flicker-free dimming capability, with a dimming output being controlled by a two-wire control giving operators manual control of brightness. This unit features varying beam angles, including a 60˚ beam mounted in high bay fixtures over 25 feet in height, a 125˚ beam for low bay fixtures in a height range of 15 to 25 feet, and a 140˚ beam for low bay fixtures in areas with a ceiling height of 15 feet or less.
Larson Electronics' LED light fixture contains two bulbs that each produce 21,000 lumens for a total of 42,000 lumens of light output with a color temperature of 5000K and color rendering index of 75. Other options available include 3000K warm white and 4000K natural white color temperatures. This fixture has ceiling, pendant and wall mount options. Wall and ceiling mount options use an adjustable swivel mount bracket, and the pendant option uses a rigid pipe, via a 3/4" NPT hub on the back of the fixture.
This unit features Cree LEDs, which generate 140 lumens per watt and is universal voltage capable operating with 100-277V AC, 50/60Hz without modifications. Low voltage options are also available for voltages from 11-25V or 18-48V AC, and other high voltage options such as 347-480V and 125-250V DC are available. This unit is IP67 rated, dustproof and protected against high-pressure jets and temporary submersion.
This fixture is also rated for use in Class I, Divisions 1 and 2, Groups C and D; Class II, Divisions 1 and 2, Groups E, F, and G; and Class III hazardous locations. Suitable applications for this LED light fixture include use in environments where flammable, combustible gases, vapors, dust, fibers, and flyings may be present such as paint spray booths, chemical processing plants, marine vessels, manufacturing plants, and more.
About Larson Electronics LLC: Larson Electronics LLC is a manufacturer of industrial lighting equipment and accessories. The company offers an extensive catalog of industry-grade lighting and power distribution products for the following sectors: manufacturing, construction, food processing, oil and gas, military, marine, and automobile. Customers can benefit from the company's hands-on, customized approach to lighting solutions. Larson Electronics provides expedited service for quotes, customer support, and shipments.
For further information, please contact:
Rob Bresnahan, President and CEO
Toll-free: 1-888-351-2363
Int'l: 214-616-6180
Fax: 903-498-3364
E-mail: sales@larsonelectronics.com
Source: Larson Electronics
---
Categories: Manufacturing
Tags: 0-10V dimming high bay led, 300W Explosion Proof High Bay LED, C1D1 led light, explosion proof high bay light, high bay led
---