Larson Electronics Releases 12V Solar-Powered LED Light Tower, 1.06 kW, 30-Foot Mast, 7.5-Foot Trailer
Press Release
-
updated: Jul 22, 2019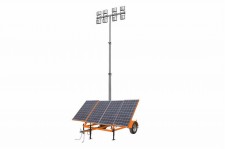 KEMP, Texas, July 22, 2019 (Newswire.com) - Larson Electronics, a Texas-based company with over 40 years of experience spearheading the industrial lighting and equipment sectors, announced the release of a solar-powered LED light tower for quickly deploying 240 watts of intense LED light to heights up to 30 feet. This unit features a telescoping light tower that folds and a rotating boom, offering 360-degrees of rotation. This 12V unit features four 265-watt solar panels and a 3,000aH capacity battery bank.
The SPLT-1.06K-LM30-8XWP600E-AT-BC-MOD1 solar-powered LED light tower includes four solar panels, a solar charging system, battery bank and charger, and a manual crank-up mast mounted to a 7.5-foot orange trailer with outriggers. The 1.06 kW solar generator system delivers 12 volts of lighting mounted to a 30-foot telescoping light mast. The system replenishes amp hours of usable battery capacity per day, assuming 5.5 hours of peak charging sunlight.
Larson Electronics' solar LED light tower is supported by 12 250aH 6V lead-acid batteries, equating to 3,000aH battery capacity (1,500aH usable). Wiring connections to the solid-state controller are made by locking-type multi-pin connectors and includes an auxiliary 12V connection for other devices. A switching regulator battery charger features an input voltage of 110V AC 50/60 Hz and an output voltage of 13.5V DC at 90 amps. This unit can be elevated to 30 feet and collapsed to 13.5 feet.
The tower is made of square steel tubing and features a 1,000 lb rated hand winch with 3/16-inch galvanized steel cable for elevating. The mast can withstand winds up to 125 mph when lowered to 13.5 feet. This unit features six 10-watt LEDs housed in a waterproof aluminum housing with a waterproof seal and features polycarbonate lenses. Each lamp can be powered individually and the four solar panels are angled at 45-degrees for optimized light intake. All electrical components are housed in a NEMA 3R job box bolted to the trailer. Suitable applications include construction sites, military bases and more.
About Larson Electronics LLC: Larson Electronics LLC is a manufacturer of industrial lighting equipment and accessories. The company offers an extensive catalog of industry-grade lighting and power distribution products for the following sectors: manufacturing, construction, food processing, oil and gas, military, marine and automobile. Customers can benefit from the company's hands-on, customized approach to lighting solutions. Larson Electronics provides expedited service for quotes, customer support and shipments.
For further information, please contact:
Rob Bresnahan, President and CEO
Toll-free: 1-888-351-2363
Int'l: 214-616-6180
Fax: 903-498-3364
Email: sales@larsonelectronics.com
Source: Larson Electronics
Share:
---
Categories: Construction, Military and Defense, Emergency and Disaster Relief
Tags: 1.06 kW Solar Light Tower, 30 foot solar light tower, solar light plant, solar light tower, solar powered LED light tower, telescoping three stage steel light mast
---