Larson Electronics Releases 100-Watt Portable Explosion Proof 110V LED Work Light With Inline Transformer
Press Release
-
updated: Apr 3, 2019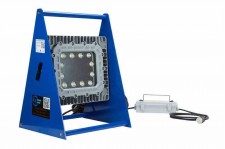 KEMP, Texas, April 3, 2019 (Newswire.com) - Larson Electronics, a Texas-based company and leader in the industrial lighting sector, announced the release of a 100-watt portable explosion proof LED light with an encapsulated inline transformer that operates on 110V AC. This explosion proof light provides 9,000+ square feet of illumination with 14,000 lumens of light output making it ideal for inspections, non-destructive testing or UV curing. This seven-square-inch LED light head is ideal for illuminating hazardous locations where flammable vapors, gases and dusts may be present.
The EPL-PM-100LED-110X12I-12.3-50 is a durable explosion proof LED light mounted on an A-frame style aluminum portable base stand made of sparking aluminum that is powder-coated with a glossy blue finish for added durability and corrosion resistance. The LED lamp head provides easy adjustment up or down 90 degrees and locked into position via two hand screws found on either side of the light head. This explosion proof light fixture is Class I Division 1 and 2, Class II Division 1 and 2 and has a 60,000-hour rated lifespan with 80 percent lumen retention. 
This explosion proof LED light fixture offers multiple flood beam angle options including: a 60-degree beam best for narrow, confined spaces - the most intense of the options, and a 125-degree beam for wider area illumination. The explosion proof light uses high-quality Cree® LEDs which produce 14,000 lumens of light with a color temperature choice of 5000K, 400K or 3000K and a color rendering index of 75 for more accurate color and detail.  
This explosion proof LED lighting system is equipped with 50` of 12/3 chemical and abrasion resistant SOOW cord leading up to the encapsulated step down transformer, and 5` of 12/3 SOOW cable on the input side of the transformer that is fitted with an industrial grade cord cap for easy connection to common wall outlets. The EPL-PM-100LED-110X12I-12.3-50 is multi-voltage capable and configured to operate on 100-130V AC with a transformer. The encapsulated AC to DC transformer steps the 110V AC input voltage down to 12V DC. This transformer has 50 feet of oil and chemical resistant 12/3 SOOW cable on the output side that connects the LED light to the stepdown transformer, and 5 feet of SOOW cable on the input side of terminated in a general area cord cap.
"This explosion proof LED provides operators with high output illumination for wide area coverage in hazardous environments that can utilize low voltage if needed," said Rob Bresnahan, CEO of Larson Electronics LLC. "This compact, lightweight unit can easily be lifted and carried where needed by the convenient handle at the top of the frame."
About Larson Electronics LLC: Larson Electronics LLC is a manufacturer of industrial lighting equipment and accessories. The company offers an extensive catalog of industry-grade lighting and power distribution products for the following sectors: manufacturing, construction, food processing, oil and gas, military, marine and automobile. Customers can benefit from the company's hands-on, customized approach to lighting solutions. Larson Electronics provides expedited service for quotes, customer support and shipments.
For further information, please contact:
Rob Bresnahan, President and CEO
Toll-free: 1-888-351-2363
Int'l: 214-616-6180
Fax: 903-498-3364
Email: sales@larsonelectronics.com
Source: Larson Electronics
Share:
---
Categories: Construction, Mining, Facilities Maintenance & Management, Agriculture and Horticulture, Chemicals
Tags: 100W Portable Explosion Proof LED Work Light, Explosion Proof LED Light, Explosion Proof LED Light with encapsulated inline transformer, Explosion Proof LED Light with transformer, explosion proof work area LED, portable LED light
---