Larson Electronics LLC Releases Class 1 Division 2 Hazardous Area LED Pivoting Light - Fluorescent Replacement, Hazardous Area LED Light, Hazardous Area LED Rig Light, LED Rig Light
Press Release
-
updated: Feb 12, 2019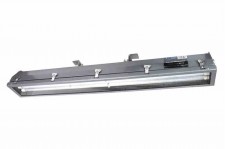 KEMP, Texas, February 12, 2019 (Newswire.com) - Larson Electronics LLC, leader in industrial lighting, has released a Hazardous Area LED Light Fixture that is U.S./Canada approved Class 1 Division 2 Groups A, B, C and D rated locations, has a T4A temperature rating. This 3-lamp pivoting light unit is ideal for hazardous locations where flammable chemical/petrochemical vapors may be encountered such as oil drilling rigs, refineries, chemical manufacturing facilities, gas processing plants, and more, and is an ideal replacement for similar fluorescent fixtures.
The HAL-48-3L-LED-BMSW-BL is a 4-foot-long 3-lamp LED fixture, rate for Class 1 Division 2 Groups A, B, C and D hazardous areas. This 250-watt unit is equipped with three, 28-watt LED lamps that produce 3,500 lumens a piece drawing a total of 84 watts. The HAL-48-3L-LED-BMSW-BL is T4A temperature rated, and is universal voltage, not multi-tap, and operates on any voltage from 120V to 277V AC 50/60hz without any modifications. This includes commonly found voltages such as 120V 60Hz, 220V 50Hz, 240V 60Hz, and 277V 60Hz. We also make a 12/24V AC/DC version for low voltage applications for AC or DC power.
This hazardous area LED features standard swivel mounting brackets, allowing operators to adjust the angle of the light to achieve their desired illumination positioning. The HAL-48-3L-LED-BMSW is constructed of copper free aluminum alloy and powder coated for additional protection against the elements. The fixtures lens is framed in heavy gauge aluminum and coated with a high gloss reflective for corrosion resistance. This weatherproof class rated light fixture provides operators in hazardous locations with a highly efficient, reliable and affordable lighting solution for marine locations.
"This LED fixture is a great option for workspaces because of the illumination patterns," said Rob Bresnahan, CEO of Larson Electronics LLC. "This model is designed to replace fluorescent fixtures, particularly those in oil rigs."
About Larson Electronics LLC: Larson Electronics LLC is a manufacturer of industrial lighting equipment and accessories. The company offers an extensive catalog of industry-grade lighting and power distribution products for the following sectors: manufacturing, construction, food processing, oil and gas, military, marine and automobile. Customers can benefit from the company's hands-on, customized approach to lighting solutions. Larson Electronics provides expedited service for quotes, customer support and shipments.
For further information, please contact:
Rob Bresnahan, President and CEO
Toll-free: 1-888-351-2363
Int'l: 214-616-6180
Fax: 903-498-3364
Email: sales@larsonelectronics.com
Source: Larson Electronics
Share:
---
Categories: Energy
Tags: CID2 LED Pivoting Light, Hazardous Area LED Light, Hazardous Area LED Oil Rig Light, LED Oil Rig Fluorescent Replacement, LED oil rig light
---