Largest Global Chinese Travel Summit Scheduled for Europe - May 21-24 - Düsseldorf, Germany
Global suppliers joining include: Accor, Capella Hotels, Steigenberger, Dorint, Hyatt, InterContinental Hotels, Maritim and Marriott Hotels
Press Release
-
updated: May 1, 2018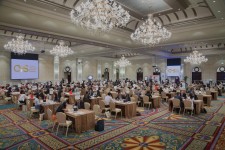 SHANGHAI, May 1, 2018 (Newswire.com) - The China Visitors Summit, May 21-24 at the InterContinental Düsseldorf, a production of China i2i Group, will bring together over 250 travel professionals from China and the world for three days of face-to-face meetings, business opportunities and exchange.
Travel suppliers from 21 countries will join 100 Chinese travel buyers from throughout China for over 4,500 face-to-face pre-scheduled meetings between these travel professionals designed to strengthen ties and expand Chinese inbound travel business growth and development from China to Europe and the world.
Global suppliers joining include Accor, Capella Hotels, Steigenberger, Dorint, Hyatt, InterContinental, Maritim and Marriott Hotels.
Chinese travel buyers include representatives from Ctrip, CYTS, CITS and CTS.
An extra day of meetings and business sessions were added in Amsterdam on May 25 due to the demand by the growing inbound business from China to the Netherlands. More than 25 travel companies from the Netherlands will join this added one-day event.
The summit is a production of China i2i Group, headquartered in Shanghai.  Alexander Glos, i2i CEO, commented, "The summit is not a government-sponsored familiarization trip. Instead, all of the Chinese buyers invest their own time and money to join. This makes the buyers uniquely qualified compared to most sponsored events as they are serious about doing business, developing partnerships and making money."
China i2i Group is the largest publisher in China of media focused on the continuously growing Chinese global travel and shopping market. In 2017, China i2i Media was read by over 18 million global Chinese travelers and shoppers. The company produces 14 WeChat platforms in China with more than 2.6 million followers and 350,000 weekly readers. Website: http://www.i2i-china.com/.
For more information on the CVS, please contact:
Alexander Glos​
CEO​
​China i2i Group
​Email:  aglos@i2imedia.net
Phone: ++86.185.1613.2242
​Phone: ++1.202.407.9222
​WeChat: Tbk2000
Source: China i2i Group
Share:
---
Categories: Casinos
Tags: China, CIT, CYTS, Germany, Hyatt, IHG, Lufthansa, Marriott, Shopping, Travel
---