Lafayette Personal Injury Attorney Selects 2023 Scholarship Recipient
Press Release
•
Sep 13, 2023
Rising Law Student Wins This Year's Blaine Barrilleaux Scholarship and Plans to Pursue a Career in Criminal Law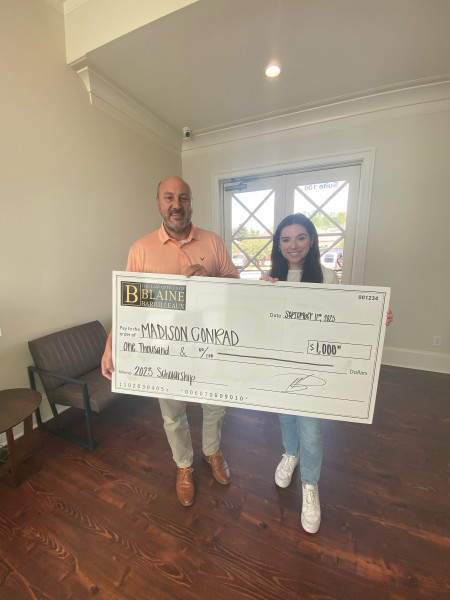 LAFAYETTE, La., September 13, 2023 (Newswire.com) - Every year, Lafayette personal injury attorney Blaine Barrilleaux offers a $1,000 scholarship to one bright high school or college student pursuing enrollment or currently enrolled in a Louisiana university. This year, applicants wrote a response to the question: What is the importance of education?
A record number of students entered this year, and The Law Offices of Blaine Barrilleaux is pleased to announce the chosen winner: rising LSU Law student Madi Conrad.
Madi Conrad Wins This Year's Blaine Barrilleaux Scholarship
Madi Conrad has just begun her first year at Louisiana State University (LSU) Law School, following her graduation in the spring of 2023 from the University of Louisiana at Lafayette (UL) with a Bachelor of Science in Psychology and a minor in Political Science. While at UL, Madi interned in Juvenile Drug Court and Family Preservation Court, which fueled her passion for law.
Madi is genuinely a multi-talented, highly-driven individual. In addition to her legal aspirations, she has sung the National Anthem for the Houston Astros and currently reigns as Miss Louisiana Collegiate USA 2023.
After law school, Madi plans to pursue criminal law, with a particular interest in addiction rehabilitation. Madi's dedication to her community, empathy for others, and desire to improve the criminal justice system are qualities that align with the values of the Blaine Barrilleaux Scholarship. Like Blaine, Madi is also a proud Lafayette Parish native and hopes to return to the area to practice after law school.
Learn More About The Law Offices of Blaine Barrilleaux
Blaine Barrilleaux is a Lafayette personal injury attorney with over 25 years of experience representing victims of car wrecks, big truck accidents, dog bites, off-shore injuries, medical malpractice, and more. Not only does Blaine have a long history of serving his community through his work, but he's also spent his entire life in the area. Born and raised in Louisiana, he continues to raise his family and work in Lafayette.
Blaine's commitment to giving back to people through the Blaine Barrilleaux Scholarship and the vital work of his law firm is a testament to his dedication to his community.
If you or a loved one has been injured in an accident, contact Blaine today for a free case evaluation.
Source: The Law Offices of Blaine Barrilleaux