Lady M New York's Black Friday and Cyber Monday Special!
Get ready, cake lovers. Lady M New York has a very special Black Friday and Cyber Monday promotion!
Press Release
-
updated: Nov 22, 2019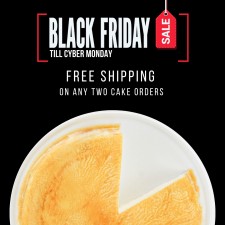 NEW YORK, November 22, 2019 (Newswire.com) - Hello, cake lovers! It's never too early to plan for the upcoming holiday season, and Lady M New York has a special Black Friday and Cyber Monday promotion. Lady M is offering free shipping on all orders of two cakes placed between November 29 and December 2, 2019. Eligible delivery dates for the cake orders include December 11, 12, and 13, 2019. Check out Lady M's online shipping catalog page for cake selection available for shipping and get ready for ordering on Black Friday.
Lady M takes great pride and care in shipping for each cake. Every order is carefully hand-packed and arrives in a custom Lady M insulated bag. Bonus: all cakes may be kept frozen for up to two months before serving. Shipped cakes are flash-frozen so that customers can order in advance and keep the individual cakes in the freezer for any upcoming holiday celebrations. Cakes are to be defrosted in the fridge for 12 hours before serving (see sample cake instructions here).
For those looking for dessert ideas, consider Lady M's special holiday favorites such as the Pumpkin Nuage (a cinnamon-spiced cross between pumpkin pie and cheesecake) and Gateau Fromage (vanilla-accented baked cheesecake atop a crisp shortbread crust). Our year-round menu also includes our Checkers creations (featuring whipped cream tucked between a vanilla and chocolate sponge squares), available in both chocolate and green tea.
Lady M's classic cakes are always a crowd-pleaser at any dessert table. From the iconic Signature Mille Crêpes, featuring layers upon layers of handmade crêpes and pastry cream to the best selling Green Tea Mille Crêpes which incorporate high-quality matcha powder from Japan, no holiday party is complete without Lady M!
About Lady M New York:
Lady M New York is an NYC cake brand with 40 boutiques worldwide. Created in 2001 and helmed by CEO Ken Romaniszyn, Lady M is known as the original creator of Mille Crêpes. Lady M marries classic French techniques with Japanese sensibilities to develop creations that are a touch sweet and perfect for all occasions. Indulge in a world of cakes and confections at ​www.ladym.com.
### MEDIA ONLY CONTACT:​
Kaiyi Chu | Head of Growth
press@ladym.com
Source: Lady M Confections
Share:
---
Categories: Food and Beverage Services
Tags: bakery, black friday, cakes, christmas, crepes cakes, cyber monday, deals, dessert, free shipping, gift idea, holiday desserts, lady m
---