L. Ron Hubbard's Birthday Now Official N.J. Religious Holiday
Press Release
•
Apr 29, 2016
Scientology Founder L. Ron Hubbard was born March 13, 1911. His birthday is now officially recognized as a religious holiday in New Jersey.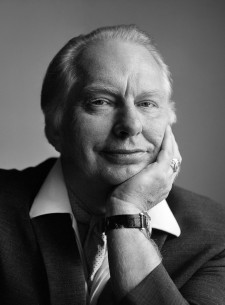 New Jersey, NJ, April 29, 2016 (Newswire.com) - ​The New Jersey State Board of Education added the birthday of Scientology Founder L. Ron Hubbard, March 13, to its list of 100 official state religious holidays for the 2016-2017 school year.
Mr. Hubbard's birthday has long been celebrated by Scientologists the world over. Each year, Scientologists gather in Clearwater, Florida, the spiritual headquarters of the religion, to celebrate the life and legacy of L. Ron Hubbard. And throughout the world, Scientologists attend screenings of the Clearwater event at their own Church or Mission the following week.
Traditionally, the birthday event includes a presentation by Mr. Danny Sherman, L. Ron Hubbard's biographer, with selections from Mr. Hubbard's published works, letters and diaries. Videoed biographical vignettes illustrate selections from Mr. Hubbard's recorded lectures in which he recounts tales of adventure and discovery. There may be tales of his travels through the Far East as a teen or his barnstorming feats in the dawn of the age of aviation; his wartime experiences or his life as a writer of fiction in New York. Many of these videos can be viewed on the L. Ron Hubbard website or in the Public Information Center of Ideal Scientology Churches.
Mr. Hubbard's works on Dianetics and Scientology comprise the largest cohesive statement on the human mind and spirit—and all of it made available to anyone wishing to travel his route of discovery. As he stated, "We are extending to you the precious gift of freedom and immortality—factually, honestly."
The first Church of Scientology was formed in Los Angeles in 1954 and the religion has expanded to more than 11,000 Churches, Missions and affiliated groups, with millions of members in 167 countries.
Source: Church of Scientology
Related Media