Kyberlight Custom Sabers Crushes Kickstarter Goal by 1014%
Press Release
-
updated: Aug 2, 2016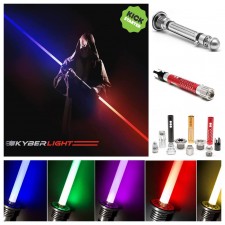 American Fork, UT , August 2, 2016 (Newswire.com) - ​​​Kyberlight, LLC launched its revolutionary line of custom lightsabers via Kickstarter last month and beat the target goal by 1014% with over 1100 backers and $507,000 in funds raised.  "As long time obsessed Star Wars fans with engineering and marketing backgrounds, we set out to engineer the world's greatest combat ready, custom lightsaber," said Shon Whitney, co-founder of Kyberlight. The goal of Kyberlight is to create the next generation custom lightsabers by re-engineering the saber experience from the ground up and creating new technologies to maximize flexibility, durability and affordability. "We think every fan should be able to own a custom lightsaber." 
The Kyberlight saber was built to be the best in five key areas.
Indestructible Fighting Blade – These custom lightsabers aren't just for show. With its sleek and futuristic design, the Kyberlight saber blade is made from a proprietary plastic blend making it virtually indestructible. "Each Kyberlight custom saber is designed with combat in mind," said Whitney. "Our goal was to make these fully fightable and built to last. Guaranteed! And we back it up with a lifetime warranty on every Kyberlight blade."
20 Built-in Colors – Using cutting-edge and proprietary LED technology, each Kyberlight saber puts out over 3,200 lumens, making it the brightest lightsaber in the world. In addition to its brightness, this LED technology also allows you to toggle between 20 built-in colors with the simple touch of a button.  
Hilt Customization – Custom machined from 7075 aircraft grade aluminum, each Kyberlight hilt comes ready for complete customization. The screw off bottom, top and middle overlay, allow you to mix and match the accessories to make the perfect lightsaber for you. Kyberlight offers a starter accessory kit that comes with 11 different accessory options, giving you countless custom combinations to choose from.
Rich Sound Effects – Another unique feature that comes standard with every Kyberlight saber, is the rich quality stereo sound effects (including flash on clash). This high quality sound system really helps create the ultimate lightsaber fighting experience.   
Affordability – "We created the Kyberlight saber to not only be the highest quality custom lightsaber in the world," said Whitney, "but to also be the most affordable and accessible for fans of all ages anywhere in the world."  Sabers start at $199 and offer infinite customizable options so you never have to purchase another saber. 
We invite fans to check us out at:
Contact information:   
E-mail:  shonw@kyberlight.com
Phone: (801) 369-6588
Source: Kyberlight, LLC
Share:
---
Categories: A&E News, Internet and Streaming Media, Video Games
Tags: kyberlight, lightsabers, star wars
---