KWHCoin Announces Partnership to Become the Largest Renewable Energy Blockchain in Puerto Rico
The KWHCoin announces a development project that will make KWHCoin the largest renewable energy blockchain on the island
Press Release
-
updated: Apr 5, 2018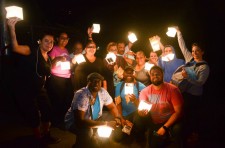 SAN JOSE, Calif., April 5, 2018 (Newswire.com) - The KWHCoin Blockchain is excited to announce a development project that will make KWHCoin the largest renewable energy blockchain on the island. Puerto Rico has unique challenges with over 30 percent of the island and over 1 million residents still without power from the devastating effects of Hurricane Irma and Maria. KWHCoin has an innovative social impact model that uses cryptocurrency as a liberation technology to provide full value for the entire ecosystem with its token model that is backed by the generation of renewable energy.
"With KWHCoin our token holders can be proud that they are helping light the world and impact investing in an environmentally responsible project that is also delivering the value of global renewable energy services and is laying the infrastructure for the internet of energy projected to be a $150 billion industry by 2020," said KWHCoin CEO Girard Newkirk.
The blockchain has over 100 confirmed partnerships through the website and global outreach and has seen a dramatic increase in application requests to join the KWHCoin network. The KWHCoin blockchain now has renewable energy nodes in six continents and over 30 different countries.
The strategy of KWHCoin is to build a global network of renewable energy nodes to provide the physical and virtual assets for its blockchain to aggregate and collaborate the global renewable energy assets. Thus, making KWHCoin a unique value proposition because it's actually backed by renewable energy generation and distribution.
"Our community token model uses impact investing to develop infrastructure and physical assets (solar panels, energy storage resources, microgrids, etc.) for those that lack resources or are in remote locations. Especially the almost two billion without reliable electricity access thereby lighting the world and building value for the KWHCoin token as we build a global network of distributed energy resources all connected on our blockchain and accessible through our application that is in development," said Newkirk.
For more information email: contact@kwhcoin.com
Source: KWHCoin
Share:
---
Categories: Emerging Businesses, Business Technology, Alternative Energy
Tags: blockchain, internet of energy, KWHCoin, network, Puerto Rico, renewable energy, technology, value
---