KWE Becomes an Official Member of the Smart Freight Centre
Press Release
•
Aug 2, 2023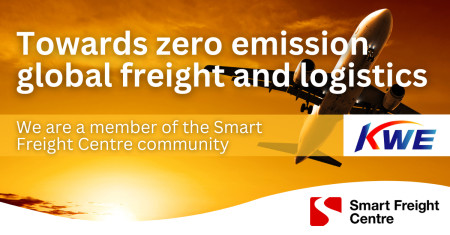 TOKYO, August 2, 2023 (Newswire.com) - Kintetsu World Express, Inc. (Tokyo, Japan) has officially joined Smart Freight Centre (head office: Amsterdam, The Netherlands), an international nonprofit organization dedicated to reducing greenhouse gas emissions from freight transportation.
With its' ambitious goal to guide the global logistics industry to reduce greenhouse gas emissions from freight transport by 1 billion tons by 2030 and zero emissions by 2050, Smart Freight Centre has developed a framework for calculating emissions and guidelines for setting reduction targets specific to various sectors of the logistics industry.
The use of sustainable biofuels (SAF, Maritime Bio-Fuels, Bio-Diesel, etc.) is considered to be the currently most effective way to reduce greenhouse gas emissions from cargo transport in terms of an economically viable transition to feedstock of non-biogenic origin. At the same time, there is an urgent need to establish international standards on how to share and expand the environmental attributes of them among all the stakeholders. By participating in Smart Freight Centre, which is leading these efforts on a global scale, we will continuously contribute to the industry-wide efforts for decarbonization.
"At Kintetsu World Express, we're on a journey to accelerate decarbonization and improve our greenhouse gas (GHG) emission performance. We are pleased to share that we have joined the Smart Freight Centre (SFC) community to take concrete steps towards achieving our GHG emission reduction goals. Through collaboration with global partners and SFC's industry-leading network, we can work towards achieving our climate goals."
— Yoshikazu Yashiki, Managing Officer of Kintetsu World Express.
About Kintetsu World Express
Kintetsu World Express is a leading provider of distribution services across the globe, including international air and sea freight forwarding, third-party logistics (3PL), warehousing, truck transportation services, and customs brokerage.
Source: Kintetsu World Express, Inc.