Kush Fine Art Gallery in Lahaina Burnt by the Wildfires
Press Release
•
Aug 13, 2023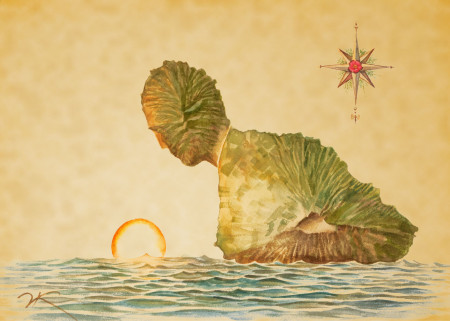 LAHAINA, Hawaii, August 13, 2023 (Newswire.com) - Kush Fine Art Gallery in Lahaina, HI, burnt by the wildfires. Due to the devastating fires that developed this week in Maui, Kush Fine Art Gallery has temporarily closed its doors in Lahaina, HI.
Kush expressed: "At this time, we are grateful for the safety of our staff, and we extend our deepest condolences to all the families who have lost their loved ones and their homes. Maui has been my home for many years, and I am heartbroken to see the tragedies which have unfolded in these past few days. I know every little corner of Lahaina and consider it almost my hometown. I am grateful for the countless messages of support and best wishes from all our collectors and friends."
It was 22 years ago when world-renowned artist Vladimir Kush embarked on his own Metaphorical Voyage and opened his first art gallery: Kush Fine Art in Maui. The historic town of Lahaina holds a very special place in the artist's life, history, and journey. The artist's odyssey in Maui began by doing portraits in 1992 throughout various locations in Lahaina, until he started to showcase his art at the galleries in town, and today many of the artist's artworks are inspired by the visual metaphors, symbolism, and artifacts of this unique and magical island among other themes such as family, cosmos, time, history, love, Greek mythology, and many more.
Kush Fine Art Gallery in Lahaina opened its doors to the public in the year 2001. Side by side, Kush and his father (Oleg Kush) painted the walls of the new gallery space in Lahaina, giving birth to Kush Fine Art as a business. Since then, the American cultural environment accepted and welcomed Kush's vision and his own genre of art "Metaphorical Realism", and the Kush Fine Art brand was established. His development as a professional artist and the realization of his genre is closely tied to the historical town of Lahaina. Over the years, KFA Gallery in Lahaina has welcomed thousands of visitors from all over the world every year.
Kush's vision, drive, and dedication has not slowed down and the opening of his new gallery in Miami Beach is a testament to his passion and vision of expanding his art into new horizons. Visit Kush Fine Art and discover and explore the Art of Imagination from the West Coast to the East Coast in Las Vegas, NV, Laguna Beach, CA and Miami Beach, FL. Kush Fine Art Galleries is one of the most recognized names in the industry of fine art around the globe and with many more years to come, Kush's artworks will keep on bringing "Metaphorical Realism" to the entire world.
Visit www.kushfineart.com to find out the latest news, contact us at info@kushfineart.com with any inquiry and follow Kush on Instagram, Facebook, Threads and Twitter.
Source: Kush Fine Art