Konsyl Pharmaceuticals, Inc. Launches Four New Gut Health Fiber Gummies
Press Release
•
updated: Jan 20, 2023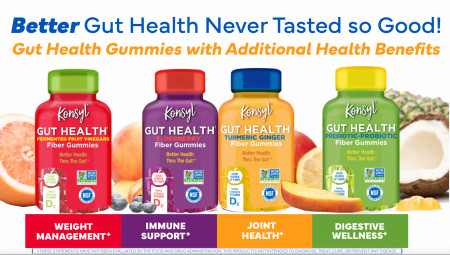 EASTON, Md., January 20, 2023 (Newswire.com) - Konsyl Pharmaceuticals, Inc., a trusted health and wellness brand for over 85 years and creators of Konsyl Daily Psyllium Fiber, announces today the largest product launch in the company's history with the release of four fiber gummies aimed at gut health. The new scientifically formulated Gut Health Fiber Gummies are available in four targeted formulas that help manage Digestive Wellness, Immunity, Weight Management, and Staying Active.
Konsyl's new product line features formulations that are backed by science and contain a proprietary combination of highly researched ingredients. The products' proprietary blends include 3g of fiber per serving which is considered to be a good source of fiber and a vegetarian-sourced, triple-strength vitamin D₃ to help support optimal wellness.⁺ All products are Non-GMO Project Verified, Certified NSF Gluten-Free, soy-free, shellfish-free, and dairy-free, and contain no artificial or synthetic flavors, or sweeteners.
After extensive research and development, Konsyl Gut Health Fiber Gummies are currently rolling out at CVS Pharmacy, Walmart, Kroger Supermarket, and HEB nationwide this season.
The new line includes:
Prebiotic-Probiotic Fiber Gummies

Supports Intestinal Health and Wellness⁺
Highly concentrated Polysaccharide Fibers
Promotes Optimized Prebiotic-Probiotic Activity

Elderberry Fiber Gummies

Supports Immune Function & Health Goals⁺
Ultra-Concentrated Elderberry & Polyphenols
Promotes Optimized Prebiotic-Probiotic Activity

Fermented Fruit Vinegars Fiber Gummies

Supports Any Weight Management Plan⁺
Concentrated Fermented Fruit Vinegars
Promotes Optimized Prebiotic-Probiotic Activity

Turmeric Ginger Fiber Gummies

Supports Active Lifestyle Goals⁺
Ultra-Concentrated Spices, Turmeric & Ginger Support Overall Health and Wellness
Promotes Optimized Prebiotic-Probiotic Activities
"It's with genuine excitement that we announce the release of Konsyl Gut Health Gummies," said Gary April, President of Konsyl Pharmaceuticals, Inc. "We worked hard to create a new fiber gummy line aimed at Gut Health that not only tastes great but is also effective. We did this by selecting the highest quality ingredients and formulating our proprietary blends to support overall digestive health and wellness. These new convenient gummies offer the same kind of quality you know Konsyl for in a great tasting, easy-to-take gummy!"
About Konsyl Pharmaceuticals, Inc.
Konsyl is a trusted health and wellness brand for over 85 years. Konsyl formulates and manufactures the highest quality products for everyday digestive health. Konsyl offers a variety of fiber supplements, natural powders, on-the-go stick packs, flavored powders, organic options, and delicious health-targeted gummies! Learn more at Konsyl.com, follow @konsylfiber on Instagram, or like @Konsyl on Facebook.
Source: Konsyl Pharmaceuticals, Inc.