Kobina Wright Launches Heart of Yemalla, LLC, a Feminine Care Company With One Product
Press Release
-
updated: Oct 5, 2017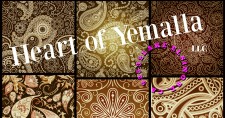 LAKE ELSINORE, Calif., October 5, 2017 (Newswire.com) - Southern California artist, Kobina Wright, founded a new company, Heart of Yemalla, LLC. Heart of Yemalla, LLC is poised to provide feminine care products that are uncommon in today's market. The company debuted its online store on Sept. 15, 2017.
Currently, Heart of Yemalla sells only one product. According to the recent blog on their website (HeartofYemalla.com), the company takes pride in its temporary limitation.
"Being that we are a new company, our philosophy is to tackle one issue at a time, and our first task is to address the fragrance of the woman's jade gate.  Of course, our product happens to moisturize as well… Bonus!"
...our first task is to address the fragrance of the woman's jade gate.
Heart of Yemalla's only product is a formulation of natural oils that acts as a guard against unwanted vaginal odor. It also acts as a moisturizer and general enhancement of the vagina, keeping it soft and supple. The oil does not cure infection or disease that may cause odor nor does it take the place of proper hygiene, the company states. The information on the website also warns potential customers that the oil should be used with proper water consumption.
"We also understand that it's a bold name and that some of our more reserved, more conservative ladies are a little uncomfortable with the name. That's okay too. We've been conditioned not to speak of our nether region and therefore have oppressed ourselves into avoiding important discussions about our vaginas. We have one product we're hoping will open up the discussion!"
Wright is both an artist and writer from Orange County, California, who earned a bachelor's degree in journalism from California State University, Fullerton.  She has published several books and her artwork has been exhibited in several countries, including Slovenia, Amsterdam, Thailand, New Zealand; France, England and the U.S.
For more information go to HeartOfYemalla.com.
Source: Heart of Yemalla, LLC
---
Categories: Entrepreneurship, Beauty and Personal Care, Healthcare, Arts and Entertainment
Tags: Heart of Yemalla, Kobina Wright, vaginal care
---