KoalaWriter Takes Off With 2,000+ Paying Users in Stellar Launch Week
Press Release
•
updated: Apr 4, 2023
KoalaWriter, part of the Koala platform, streamlines content creation for SEO, social media, newsletters, and more, enhanced by real-time data integration for accurate and engaging articles.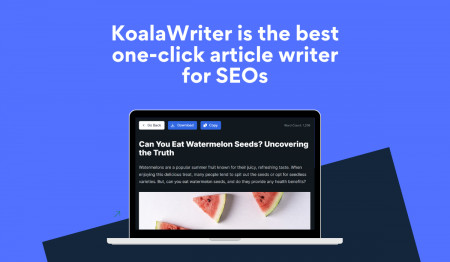 GAINESVILLE, Fla., April 4, 2023 (Newswire.com) - Koala, an up-and-coming AI startup, is excited to announce the successful launch of KoalaWriter, a new and innovative AI writer. KoalaWriter earned over 2,000 paying users and 87 affiliates in just one week. They have also received amazing feedback and glowing reviews.
Priced affordably, this groundbreaking AI writer simplifies content creation by generating SEO-friendly articles optimized for readers and search engines with just a single click.
KoalaWriter uses real-time integrations with Google search results and Amazon product data, allowing users to easily create informational and affiliate content. Users can obtain a full article tailored to their needs by providing the topic, ensuring readability and relevance.
As part of the Koala platform, users also get access to KoalaChat, a cutting-edge tool powered by GPT-3.5 Turbo. It incorporates real-time search results to ensure users receive up-to-date information and includes advanced functionality, such as the ability to describe images.
Testimonials from leading SEO professionals like Jon Dykstra (Fatstacksblog.com), Anne Moss (Yeys.com), and Keith Mint (MintedEmpire.com) highlight the effectiveness of KoalaWriter in generating publish-ready articles, emphasizing its advantages over other AI platforms.
Jon Dykstra states, "I didn't fully embrace AI content until I tried Koala. Koala is the first platform that produced full blog posts from a simple keyword prompt that is good enough to publish on my niche sites. The content output is ridiculously in-depth and structured with heading tags, plenty of spot-on subheadings that make articles almost always publish-ready. My current use is to create engaging, helpful content for social media followers."
Anne Moss praises KoalaWriter as her "favorite AI tool for generating articles for our sites," adding, "it generates well-structured, SEO-friendly articles in a single click, tailored to my preferred writing style. The Real-Time Search Results feature improves accuracy and relevance, and I love that it adds links to the articles that you can actually follow up on. I've tested this against ChatGPT multiple times. The quality of the end result is just far more suited for my needs as a publisher. I wholeheartedly recommend Koala to anyone looking to enhance their blogging game."
Keith Mint shares his experience with KoalaWriter: "It effortlessly produces comprehensive blog posts from a single keyword prompt, making it a breeze to publish on my niche sites. It nails the structure: headings, subheadings, engaging content, and even appropriately linked references to relevant external sources. What a time-saver! KoalaWriter has become my go-to AI tool for creating well-structured, SEO-optimized articles with a single click, all while staying true to my preferred writing style, which I can select in advance."
Koala provides a platform that offers innovative and unique AI tools for publishers, SEO professionals, and social media marketers.
For more information, visit https://koala.sh/.
Source: Koala