KOA and Outdoorsy Announce Partnership Providing Greater Access to RVs & Campgrounds
KOA executives and the Outdoorsy leadership team launch their partnership at the KOA International Convention in Phoenix, Arizona.
Press Release
-
updated: Nov 17, 2017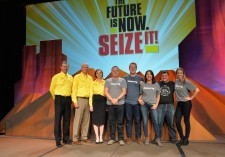 SAN FRANCISCO, November 17, 2017 (Newswire.com) - Outdoorsy, the largest and most trusted global rental marketplace for recreation vehicles, is teaming with Kampgrounds of America (KOA), North America's largest network of open-to-the-public campgrounds, to provide campers to easy access to both RVs and quality family campgrounds.
The partnership will give travelers unparalleled access to a vast network of resources for outdoor travel — from the 10,000 privately-owned RVs on Outdoorsy's marketplace to more than 500 KOA campgrounds throughout the U.S. and Canada. Campers will now have the ability to seamlessly plan their trips, and reserve both recreation vehicles and campgrounds through a single online entry point.
"Our goal is to make the outdoors as accessible as possible through a simple tech-enabled marketplace," said Jen Young, co-founder and CMO of Outdoorsy. "This partnership allows us to give first-time RVers the ability to experience the best of North America through premium campgrounds that offer a wealth of amenities and activities."
The KOA partnership will also potentially unlock millions of dollars of revenue for RV owners across North America. RV owners can earn up to $56,000 a year when they list their RVs for rent on Outdoorsy.
"Working with Outdoorsy provides KOA the opportunity to welcome a new generation of tech-savvy travelers who are looking to experience the outdoors in an easy, frictionless way," said KOA Vice President of Brand Development Lorne Armer.
Young said the KOA partnership will also potentially unlock millions of dollars of revenue for RV owners across North America. "We're excited to give KOA campers who own RVs the opportunity to tap into a new income source by renting their RVs when they aren't using it, through a secure, insurance-backed platform," said Armer.
Armer announced the new partnership Nov. 16 during the Kampgrounds of America annual International Convention in Phoenix, Arizona.
Outdoorsy CEO Jeff Cavins said, "Outdoorsy provides each RV owner listing their RV on the Outdoorsy site a $1 million insurance coverage guarantee, along with a 24/7 customer support team."
Armer said every KOA camper who lists their RV on Outdoorsy before Dec. 31, 2017 will receive $250 cash upon completing their first rental. To list an RV, go to https://www.outdoorsy.com/partner/koa/list-your-rv. 
To rent an RV or to find out more, visit www.outdoorsy.com. 

About Outdoorsy:
Outdoorsy is the largest and most trusted marketplace on the planet with hundreds of thousands of rental days, 1+ million message exchanges between RV owners and renters an a rapidly expanding global fleet of unique outdoor vehicles. Outdoorsy is mobilizing the 16+ million idle RVs around the world, ensuring everyone has the access, choice and opportunity to safely enjoy outdoor recreational vehicle travel — and empowering RV owners to realize life-changing financial benefits. Founded in 2015 and headquartered in San Francisco, you can find us at www.outdoorsy.com and come along for the ride on Outdoorsy's unique RV-loving Never Idle Travel Journal.
About Kampgrounds of America:
Kampgrounds of America Inc. has been the world's leading system of family campgrounds since it was created in 1962 in Billings, Montana. KOA currently has more than 500 great campground locations throughout North America. KOA also operates the most visited consumer camping website in the world, www.koa.com.
Media Contacts:
Jennifer Young, Co-founder
Outdoorsy
press@outdoorsy.com
(415) 837-3251
Mike Gast / Vice President of Communications
Kampgrounds of America Inc.
mgast@koa.net
(406) 254-7409
Source: Outdoorsy, Inc.
Share:
---
Categories: High Technology, Vacations and Travel, Breaking News, Camping, Internet
Tags: Kampgrounds of America, KOA, outdoorsy, Rental Marketplace, rv, rv rental, travel
---