KnoxvillePage.com Official Pre-Launch to Local Businesses
KnoxvillePage.com helps local businesses reach online consumers with engaging content, exclusive local deals, and things to do in the area.
Press Release
-
updated: Sep 12, 2018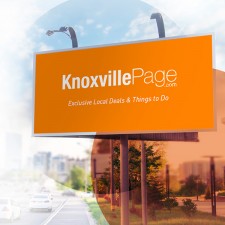 Knoxville, Tenn., September 12, 2018 (Newswire.com) - PageNearMe, Inc. announces the official pre-launch of KnoxvillePage.com to Knoxville-area businesses today. The new website is a powerful content marketing and local advertising platform built to help Knoxville businesses reach and influence local online consumers with engaging content, exclusive local deals, and things to do in Knoxville.
Anthony M. Ragland is the founder of the company. He is a resident of Downtown Knoxville and a 20-year marketing practitioner. 
"I got the idea for KnoxvillePage 9 months ago on a whim," said Anthony. " And I've been working on the idea ever since. 'I' has evolved to 'we' ... we are now a team of web developers, designers, marketers and copywriters who all have belief in an idea and our company mission."
KnoxvillePage is on a mission to enrich the Knoxville community and economy. The company is donating 10% of its gross advertising revenue to four local non-profit organizations.
KnoxvillePage has a unique approach to local marketing and advertising. The homepage has 106 popular key-words arranged in an artistic and one-of-a-kind word cloud. The homepage also features a local search box in the middle of the page. Online visitors can easily browse the key-words or conduct a local search to find exclusive local deals and things to do in Knoxville.
Each key-word on the KnoxvillePage homepage is exclusive, which means only one local business can register a key-word at a time. Instead of traditional pay-per-click and pay-per-impression advertising models, KnoxvillePage keyword owners receive unlimited impressions, clicks, engagement and leads for a flat fee starting at just $69 per month.
"One of my favorite books is 'The 22 Immutable Laws of Branding', by Al and Laura Ries", said Anthony, who has assumed the role of Chief Marketing Officer at KnoxvillePage. "They wrote, 'A brand should strive to own a word in the mind of the consumer. Once a word is precisely associated with a brand, it is almost impossible for a competitor to create a stronger association.'"
Anthony added, "Al and Laura Ries are right. Words are powerful. I've used key-words to grow businesses my entire marketing career. So, I wanted key-words to be at the core of KnoxvillePage. Key-words are proven to produce online branding and advertising results."
In addition to key-word advertising, KnoxvillePage.com uses mobile-first landing pages in its search results, which the company claims to be a better browsing experience for online and mobile visitors. Knoxville businesses can add a BASIC landing page to KnoxvillePage.com for free, and they can upgrade from a BASIC to a PRO landing page for only $49 per month.
"The secret to converting online visitors into customers is the landing page ... the copywriting, the design, and the promotional offers are critical," said Anthony, who also designed the KnoxvillePage.com UX/UI. "In my career, I've used landing pages to produce thousands of leads and millions of dollars in online revenue for clients. For KnoxvillePage, I spent a lot of time thinking about and creating the landing page templates. And I believe they communicate value and will produce good results for local businesses."
The third unique quality about KnoxvillePage is its content strategy. The company has a team of local copywriters and storytellers who publish useful content about Knoxville and East Tennessee. The blog features a collection of local articles written in an easy-to-read, conversational and informative tone of voice.
About PageNearMe, Inc. and KnoxvillePage.com
PageNearMe, Inc., (DBA) KnoxvillePage.com, is a local platform for Knoxville residents, students, and tourists to find exclusive deals and things to do. The company will expand their network of local platforms later this year by launching NashvillePage.com, MemphisPage.com, NoogaPage.com, ClarksvillePage.com, and TriCitiesPage.com in Tennessee. The company will continue to expand and launch 100 local platforms in college towns over the next 24-months. The KnoxvillePage office is located at 800 S. Gay Street, Suite 700, Knoxville, Tennessee 37929.
Media Contact:
Anthony Ragland
Founder and CMO
(865) 766-4039
PR@KnoxvillePage.com
Source: KnoxvillePage.com
Share:
---
Categories: Business to Business, Small Business
Tags: East Tennessee, Knoxville Tennessee, KnoxvillePage, Local Advertising, Small Business
---