KnowledgeLake Inc. Acquires RPA Technology Company RatchetSoft LLC After Years of Successful Partnership
Press Release
•
updated: Jan 17, 2019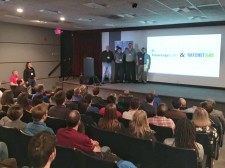 ST. LOUIS, January 17, 2019 (Newswire.com) - KnowledgeLake, a transactional content services company, today announced the acquisition of RatchetSoft, a U.S.-based robotic process automation (RPA) technology provider. KnowledgeLake customers and partners can now leverage intelligent document capture, workflow and RPA in a next-generation cloud content platform — all from one vendor. By bolstering its portfolio with RatchetSoft's attended and unattended "bot" technologies, KnowledgeLake can help businesses leapfrog persistent roadblocks to digital transformation.
"We are impressed with KnowledgeLake's vision and direction as a cloud services-based capture solution — the acquisition of an RPA vendor at this time rounds out its offering and brings new capability to both companies' customers," said Harvey Spencer, president of HSA Inc., the leading analyst company covering the world of capture with RPA software. "There is a big opportunity for capture services within the Microsoft channel and adding RPA to KnowledgeLake's feature stack puts them ahead of the competition."
Organizations of all sizes use Ratchet-X RPA to automate and integrate existing processes and applications without having to modify existing software or involve the related software vendors. The solution provides KnowledgeLake a way to easily connect to line-of-business systems; the company has deployed Ratchet-X RPA in customer environments since 2012.
"We are very excited to join the KnowledgeLake organization," said Joe Labbe, CEO and founder of RatchetSoft. "The KnowledgeLake platform was able to immediately absorb our RPA technologies, creating the most unique incorporation of RPA, machine learning and process automation in the market today."
The acquisition, finalized Dec. 31, is built upon a longstanding, successful partnership between the two companies. RatchetSoft adds hundreds of customers to the KnowledgeLake base, as well as several partnerships with leading ECM providers that leverage RatchetSoft to participate in the booming RPA market. The full stack of RatchetSoft intellectual property (IP) is now available as part of the KnowledgeLake platform.
Ron Cameron, KnowledgeLake CEO, said, "We've chosen one of the top RPA solutions in the market; RatchetSoft's IP is advanced in the RPA space. We've worked with RatchetSoft for several years and have experienced first-hand how well their channel-enabled and industry-leading RPA solutions fit with the KnowledgeLake platform and our customer base. Combining their technologies with our next-generation document capture and process portfolio presents an unparalleled opportunity to disrupt and innovate in the content services space. Our customers and partners will be extremely well-served with the addition of this strategic offering."
To learn more about KnowledgeLake, visit www.knowledgelake.com.
To learn more about RatchetSoft, visit https://ratchetsoft.com.
About KnowledgeLake
Since 1999, KnowledgeLake's singular focus has been to amplify worker productivity by eliminating paper, streamlining document processing and automating business-critical operations. With a team of enterprise content management (ECM) and content services experts equipped with award-winning Microsoft-centric technology, KnowledgeLake delivers powerful solutions that put content to work. After earning the Microsoft Partner of the Year award year after year, thousands of companies worldwide trust KnowledgeLake to provide content management and process automation expertise in their Microsoft SharePoint, SharePoint Online, OneDrive and multi-repository environments.
Press Contact:
Taylor Stroot
Marketing Coordinator
314-898-0500
taylor.stroot@knowledgelake.com
Source: KnowledgeLake