Knorex Teams Up With Mobilewalla to Accelerate Marketing Effectiveness and Intelligence Across North America and Asia-Pacific
Press Release
-
updated: May 27, 2020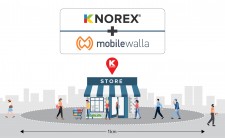 SUNNYVALE, Calif., May 27, 2020 (Newswire.com) - Knorex partners with Mobilewalla to combine Mobilewalla's consumer intelligence platform and Knorex XPO cross-marketing platform to deliver better insights into marketing performance and effectiveness for agencies and corporations in the North American and APAC regions.
Today, consumption and purchases are increasingly happening online. Digital marketing becomes paramount for businesses to capture consumers' attention. For businesses marketing online, there are myriad solutions for tracking sales conversions and attributing online campaign effectiveness. For brick-and-mortar stores such as restaurants, retailers, auto dealers, etc., however, such solutions for tracking conversion or engagement remain inadequate. Being able to track prospects walking into their stores or engaging them offline can offer valuable insights for competitive, temporal and customer analyses.
Mobilewalla is a leader in consumer intelligence solutions, combining industry's most robust dataset with deep AI expertise to help organizations better understand and predict customer behavior. Mobilewalla has data on 1.6B devices globally over 35 countries and 25B signals daily. Integrating Mobilewalla solutions into Knorex XPO enables a cross-channel view of a consumer that unify their online and offline behavior through footfall attribution. With this solution, businesses can correlate online campaign impressions to actual store visits.
Abhishek Kumar, VP of Engineering, said, "We chose Mobilewalla as our partner for this solution to gain visibility into the largest network of devices possible. We aim to enable agencies and corporations to market to audiences regardless of channels, devices and ad formats. This solution inches us closer to our vision of Universal Advertising, by fusing both online and offline measurements."
Retailers are spending big on mobile marketing and optimization. Tracking successful conversions for store walk-ins is important. Data on online activities alone is insufficient to give a full picture. This is where footfall attribution comes into play.
"We are thrilled to serve as the consumer data provider of a market leader in adtech space, Knorex. Together, we aim to deliver a more differentiated range of analytic products and solutions for Knorex customers," said Anindya Datta, CEO and Founder of Mobilewalla. "This partnership with Knorex will provide agencies and enterprises around the world with richer, more comprehensive insights to measure the effectiveness of their marketing spend, understand their customers and prospects better and make more informed business decisions."
With this combined solution, Knorex XPO users can instantly generate reports or look-alike audiences, while leveraging Knorex KAIROS™ AI engine to automate their campaigns and ad group optimization, extending not only across multi-channels but also online and offline environments.
To learn how this combined solution of Knorex XPO and Mobilewalla enables agencies and corporations to better understand consumers and helps in improving campaign effectiveness, visit www.knorex.com.
About Mobilewalla
​Mobilewalla is a global leader in consumer intelligence solutions, combining the industry's most robust data set with deep AI expertise to help organizations better understand, model and predict customer behavior. With rich insights into consumer behavior, our proprietary solutions help organizations get more out of their AI investments by making more informed business decisions and effectively acquiring, understanding and retaining their most valuable customers. Founded in 2013, Mobilewalla is headquartered in Atlanta, Georgia and has offices in Australia, India, New York, and Singapore.
About Knorex
Knorex provides programmatic advertising solutions to advertising buyers. With its AI-powered cross-channel marketing platform, Knorex XPO™ enables ad buyers to advertise worldwide in real-time regardless of media channels, ad formats and devices to deliver personalized marketing messages to their targeted audience. Established in 2010, Knorex operates across the United States and APAC.
Media Contact:
Armando Ponce
Phone: 972.369.2567
Email: info@knorex.com
Source: Knorex
Share:
---
Categories: Advertising and Public Relations
Tags: consumer intelligence, footfall attribution, online and offline measurements
---