Knitter's Pride is Even More Mindful
Press Release
•
Feb 15, 2022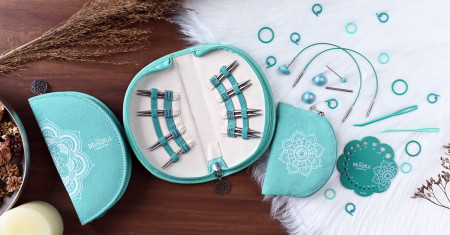 NOVATO, Calif., February 15, 2022 (Newswire.com) - Knitter's Pride is pleased to announce the expansion of their Mindful Collection knitting needle and accessory line. The warm welcome and success of the line, first introduced in 2021, has given rise to the creation of additional Mindful Collection products. Originally conceived and designed as a knitting needle and accessory collection that helped enhance the health benefits of knitting, the line has had great success and has just been introduced to the European market. In response to knitter's requests and in understanding of their needs, new additions to the line have been produced and released. Like all needles in the Mindful Collection, an inspirational word is printed on each needle to help the knitter focus on the meditative benefits of knitting. The new products include:
The Generosity Set: A set of 2" needle tips in sizes US2.5 -10, along with 4 cords. The set includes accessories, plus a needle sizer - all packaged in a custom case.
The Serenity Set: A set of 40" fixed circular needles, in sizes US1-8. The set is ideal for "magic loop" fans or larger projects. The set includes needed accessories, plus a sizer and yarn needles, packaged in a unique folding case.
Also added to the line are 2 double point 6" needle sets, which include the Grateful Set, containing sizes US0-3 and the Compassion Set, with sizes US4-8.
Each is packaged in cases which include the usual assortment of accessories.
For additional information on these new additions to the Mindful Collection, please visit: https://mindful.knitterspride.com
Knitter's Pride is proud to be an inclusive company that supports the rights of all its workers and contributes to the education of their families. A strong advocate of women's fair wage employment, the family-owned company is in an eco-compliant facility in Jaipur, India. For additional information, please visit: https://mindful.knitterspride.com
Source: The Mindful Collection
Related Media