KnaQ Starts Beta Testing for Online Marketplace
Press Release
•
Feb 7, 2022
Welcoming the public to join and test out features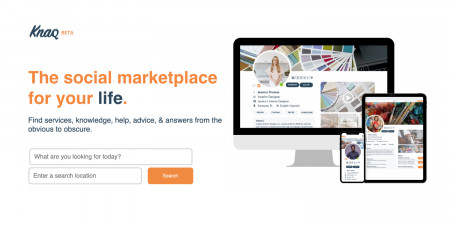 SARASOTA, Fla., February 7, 2022 (Newswire.com) - On Jan. 3, 2022, KnaQ started the beta testing process for the social marketplace, KnaQ.com. During beta testing the KnaQ team will onboard the first phase of KnaQ Experts, assisting with building their pages and creating offerings. On Tuesday, March 1, 2022, KnaQ plans to launch its official marketplace that will be open for anyone in the United States or Canada to join and become a buyer or KnaQ Expert.
Stephen Catanzano, Chief Executive Officer at KnaQ, stated, "We are so excited to start beta testing for the marketplace on KnaQ! This is a huge milestone for our team and cannot wait to share it with everyone."
Benefits for joining BETA testing |
Claim your custom URL
Be one of the first KnaQ Experts in your category
Create extra income with your KnaQ
Test KnaQ.com to contribute to feedback and features
Receive a free month of sales leads
Get featured on KnaQ social media and blogs
One-on-one LIVE training with KnaQ Expert Coaches
Participate in webinars with KnaQ CEO
Access to KnaQ toolkits and marketing guides
The KnaQ marketplace offers Knowledge Sharing for online teaching, coaching, or consulting, Skill Sharing to hire people based on their time and skills, and Connections to help small businesses and independent workers find more opportunities to grow their business. Obvious to obscure, from people with expertise, local to global using AI technology.
Get started on the Beta website for KnaQ.com | knaq.com
###
About KnaQ | knaq.com
Knowledge and skill sharing made easy. From obvious to obscure. KnaQ is the first social marketplace to offer knowledge and skill sharing made easy. From the obvious to obscure, buyers can now find the knowledge, skills, services, answers, and help they need to better their lives. KnaQ is a trusted provider that offers buyers and sellers protection of personal data. For more information visit, www.knaq.com
Source: KnaQ Marketplace