Kloudless Announces Universal Calendar API: Integrations Include Google and Outlook Calendars
Press Release
-
updated: Dec 14, 2016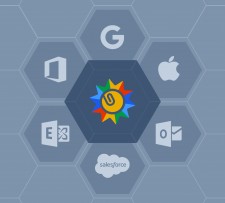 Berkeley, CA, December 14, 2016 (Newswire.com) - ​​​Kloudless, the Universal API company, today announced the public beta release of their Universal Calendar API. The new API product enables software developers to easily integrate many calendar services into their apps. Initial support includes Google Calendar and Outlook Calendar. More details about Kloudless's Universal Calendar API can be found at https://kloudless.com/calendar-api/
"Scheduling and calendaring is a critical functionality in many markets like the sharing economy, sales and marketing, and travel," said Eliot Sun, CEO and Co-founder of Kloudless. "Software developers want easy ways to embed calendar functionality into their apps and services, so we're very excited to extend our Universal API platform to include calendar integrations."
Today, developers who want to embed integrations with calendar services must build with native APIs that differ in documentation, feature parity, event tracking, object data formatting, and more. APIs are also subject to change, so additional maintenance work can be time consuming and costly in the long run.
Software developers want easy ways to embed calendar functionality into their apps and services, so we're very excited to extend our Universal API platform to include calendar integrations.
Kloudless's Universal Calendar API allows developers to quickly integrate their apps with any calendar service that their customers' are using. Kloudless takes in many calendar APIs and exposes a unified calendar API, which shields developers from having to deal with the complexities of integrating all the different calendar APIs one by one. Kloudless also handles the maintenance and updates of the underlying calendar APIs. Developers can focus on delivering their app's core value proposition and spend less time managing integrations. This build-it-and-forget-it capability extends across all Kloudless Connectors and Universal APIs.
The Universal Calendar API capabilities include:
One-to-many integration: Code once to integrate Google Calendar and Outlook Calendar. Future integrations include Apple iCal, Salesforce Calendar, and more.
 

Operations on all calendar content: Uniform object data is returned for Calendars and Calendar Events. In addition, all data can be retrieved in the original format.
 

White labeled customer experience: The calendar integrations look and feel like native integrations to the app developer's customers. Kloudless is completely invisible.
The Universal Calendar API beta program is open for free developer sign-ups today. It is available in the SaaS offering at Kloudless.com and the self-hosted Kloudless Enterprise offering. Contact Kloudless at hello@kloudless.com to request access.
About Kloudless
Kloudless is a universal API platform that makes application integrations simple and powerful. With Kloudless's integration tools, businesses can easily build software that embeds integrations with other applications. Founded in 2011, Kloudless is headquartered in Berkeley, California and is venture-backed by investors like Tim Draper of DFJ, David Sacks of Zenefits, and WI Harper Group. You can learn more about Kloudless at https://kloudless.com or follow us on Twitter.
Press Contact
Eliot Sun
CEO & Co-founder
eliot@kloudless.com
Source: Kloudless, Inc.
---
Categories: Saas (Software as Service), System and Data Integration, VARs, OEMs, and Integrator, Travel Agents and Agencies
Tags: API, application integration, developer tool, Google Calendar, integration platform, Outlook Calendar
---