Kloudless Announces Support for Docker: Deploy Self-Hosted Kloudless Enterprise as a Container
Press Release
-
Sep 14, 2016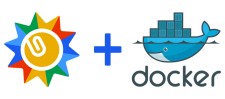 SAN FRANCISCO, CA, September 14, 2016 (Newswire.com) - Kloudless (kloudless.com), a TechCrunch Disrupt Startup Battlefield alum, today announced that Kloudless Enterprise, its self-hosted Universal API solution, can now be deployed with Docker (docker.com). This new functionality enables software developers to deploy Kloudless as one or more Docker containers within existing infrastructure and systems. More details about Kloudless Enterprise and the Docker deployment option can be found at https://kloudless.com/enterprise.
"We are always looking for ways to help our customers go to more markets faster. This means not only providing tools that make it quicker to integrate Kloudless's APIs, but also adding technology that makes it easier to deploy, scale, and manage Kloudless more easily," said Eliot Sun, CEO and Co-founder of Kloudless. "Supporting Docker enables Kloudless to be deployed in more environments, making it easier and faster for our customers to serve a wide range of businesses."
Kloudless Enterprise enables businesses to run Kloudless's Universal API products in the security of their own private infrastructure. Previously, Kloudless Enterprise was only available as a virtual machine packaged and configured for a cloud provider (for example, an AMI for AWS) or an OVA for virtualization platforms like VMWare. Docker containers are more lightweight, performant, portable, and easily scalable than existing Kloudless virtual machine images. This enables businesses to deploy Kloudless on a larger number of operating systems and variety of infrastructure.
Capabilities of Kloudless Enterprise containers include:
Support for all Kloudless APIs: Kloudless Enterprise containers support all current Universal API products, including the File Storage API and CRM API.
Deploy and connect on-prem: Not only can Kloudless Enterprise containers be deployed on-premises, they can leverage the Kloudless Connect remote agent to connect to on-premises services behind a customer's firewall.
Co-existence with other software: It is now possible to run Kloudless within a host containing existing software such as monitoring tools or custom configurations for user accounts and system policies.
"Kloudless is a company built for software developers. That means we have a responsibility to offer solutions that complement the latest software development trends," said Vinod Chandru, CTO and Co-founder of Kloudless. "As containerization has become increasingly popular in enterprise environments, we've received many requests from businesses asking to deploy and scale Kloudless within containers rather than virtual machines. We're excited about supporting Docker and seeing how our customers will utilize all the new capabilities."
Kloudless Enterprise Docker containers are available today. Kloudless Enterprise has custom pricing and comes with a free 30-day trial.
About Kloudless
Kloudless is a universal API platform that makes software integrations simple and powerful. With Kloudless's Universal API products, businesses can easily build software that embeds integrations with other applications. Founded in 2011, the company is headquartered in Berkeley, California and is venture-backed by investors like Tim Draper of DFJ and David Sacks of Zenefits. Kloudless was a TechCrunch Disrupt Startup Battlefield Finalist in 2013. You can learn more about Kloudless at https://kloudless.com or follow us on Twitter.
Source: Kloudless, Inc.
Share:
---
Categories: Computers and Software, Programming, Saas (Software as Service), System and Data Integration, VARs, OEMs, and Integrator
Tags: API, containers, developer, Docker, integration, TechCrunch, TechCrunch Disrupt
---