Kitsap Physical Therapy Chooses OccuPro to Better Serve Injured Workers
Press Release
•
May 4, 2023
OccuPro and Kitsap Physical Therapy partner to get injured workers back to work faster and safer in Washington state.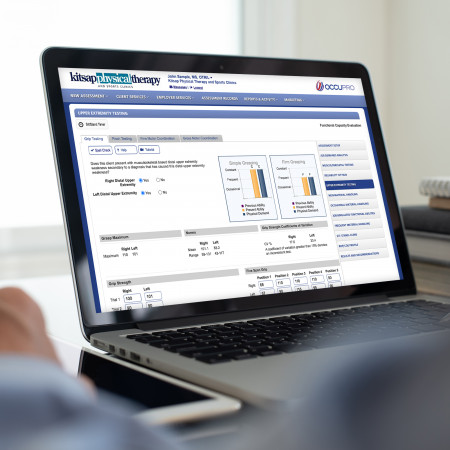 KENOSHA, Wis., May 4, 2023 (Newswire.com) - OccuPro and Kitsap Physical Therapy recently partnered to better serve workers in the Seattle area to recover from workplace injuries through high-level workers' compensation and industrial rehabilitation documentation. As a leader in workers' compensation rehabilitation, Functional Capacity Evaluation (FCE), and work conditioning documentation for over two decades, OccuPro's software was a natural choice to implement for the eight area clinics.
Kitsap Physical Therapy and Sports Clinics' mission is to be its region's premier provider of physical and occupational services. Included in its broad portfolio is a team of clinicians who share information and skills dedicated to industrial rehabilitation. This is done with unique interventions including work conditioning, work simulation-based exercises, and fitness-level testing to ensure the injured worker meets the demands listed for their occupation.
Through the years, Kitsap began to realize it needed a software system to help unify documentation, communication, and reporting. "We wanted something more appealing for our referral sources — give them easy-to-read yet thorough reports in order to help them get their patient back to work safely and trust us as a provider," said Garrett Kitchel, Kitsap's head industrial therapist. "OccuPro provides us standardized processes for our many therapists and the continuing education and support we need."
OccuPro's FCE and Return-to-Work Software offers users quick, efficient, and time-saving workers' compensation-specific testing and reporting. The approach OccuPro has taught Kitsap Physical Therapy is considered the most profitable approach to treating injured workers on the market. OccuPro's testing methodologies are peer-reviewed for reliability and validity, in addition to yearly research to stay ahead of industry standards.
"Kitsap Physical Therapy is the longest-standing private therapy practice in the state of Washington. We are a multi-specialty group practice," stated Dave Damon, CEO of Kitsap. "Occupational injury rehabilitation, prevention, and wellness are areas we enjoy focusing on, and by implementing OccuPro's software, we've been able to be more competitive in the market with added industry knowledge and the ability to provide referral sources fast comprehensive reports — resulting in serving more patients. Treating injured workers has been a critical aspect of our mission for decades. It takes experience and a coordinated focus on communication with claims managers, employers, vocational counselors, and medical providers to find solutions to modify work, if needed, and get the injured back to work as quickly yet safely as possible. We realize this requires a unique skill and knowledge set, and this is why we treat occupational health and injuries as one of our special focus areas. All our specialties involve what we call Special Interest Groups, with member clinicians meeting together throughout the year to study and plan together to deliver the best products we can offer our community."
"We are thrilled to have Kitsap Physical Therapy join the OccuPro family of clinics. Just like the thousands of clinics that have already partnered with us, we are excited to see Kitsap Physical Therapy grow their workers' compensation market share in the state of Washington," stated Chief Operations Officer Jim Mecham.
Established in 2002, OccuPro has developed the industry's most respected workers' compensation documentation system used by all the major workers' compensation insurance carriers/payors. OccuPro's worldwide customers have performed over 200,000 FCEs and the reports are generally considered to be the easiest reports to decipher on the market. OccuPro's software, training, and certification programs are industry-leading services that boost a rehabilitation clinic's overall net revenue within weeks of implementation.
Source: OccuPro