Kinum Announces Strategic Partnership with CollBox with New Debt Collections APP
Connect your accounting software (QuickBooks) to Kinum/CollBox app in seconds instantly determines which invoices belong in collections.
Press Release
-
updated: Jan 24, 2017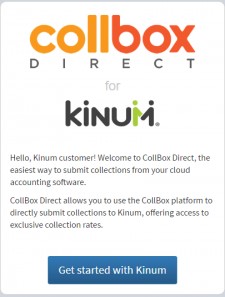 Santa Clara, CA, January 24, 2017 (Newswire.com) - Kinum, an innovative collection and healthcare- revenue-cycle service, announces a strategic partnership with CollBox, the leading collections solution for users of cloud accounting systems.
The Kinum/CollBox alliance provides a cutting-edge collections service with its simple, secure, and cloud-integrated placement solution for business. Businesses connect their accounting software (QuickBooks Online) to the CollBox app in seconds which instantly determines which invoices are available for collections. Clients select invoices and CollBox advances the invoices to Kinum. The CollBox/Kinum alliance streamlines debt collections by integrating billing and collections into a combined process so you can focus on growing your business.
"Kinum delivers a valuable service to thousands of small businesses across the nation, along with solutions that increase revenue while protecting customer relations. We are thrilled to partner with an innovator like CollBox," said CEO Bruce Klinger.
CollBox, the leading cloud collections app, simplifies the process of advancing delinquent accounts to collection agencies. As the highest-rated cloud collections app on the market, recently named one of the 10 best new apps of the year by QuickBooks, CollBox picks up where A/R management software ends, connecting clients to a network of certified, vetted collection agencies like Kinum saving time, money, paperwork, and worry. CollBox's network of agencies combined with our collections' analytics allow us to identify the best agencies for your industry. To learn more about Kinum/CollBox's integrated application, visit https://kinum.collbox.co
About Kinum
A Virginia based, smarter debt collection agency, Kinum is one of the top-rated receivables management companies in the United States. Kinum is an industry preferred debt collection agency, providing customized debt recovery solutions for businesses and healthcare facilities nationwide. Visit us: www.kinum.com/bryan-pereyo/; https://twitter.com/UncleLouiedebt; or https://www.linkedin.com/in/bryanpereyo.
For more information contact:
Bryan R Pereyo, Regional Owner, Kinum, (916) 247-4901 or bryan.pereyo@kinum.com.
Source: Kinum
---
Categories: Finance, Small Business, Credit Unions
Tags: Collections, Debt, profit, recovery
---