Kindle Adaptation of the Pursuit of Time and Money, by Dr. Sharon Spano, Now Available
"The Pursuit of Time and Money" Kindle/E-Book Format Now Available
Press Release
-
updated: Jun 9, 2017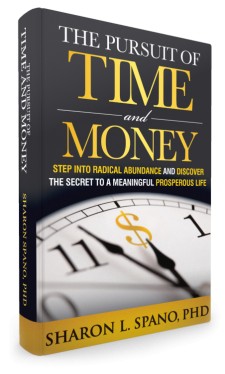 Heathrow, FL, June 9, 2017 (Newswire.com) - The Pursuit of Time and Money: Step Into Radical Abundance and Discover the Secret to a Meaningful Prosperous Life, by Dr. Sharon Spano, Ph.D., an author, business strategist and Certified Professional Integral Coach, is now available for download.
The Pursuit of Time and Money explores the relationship between time, money and how to utilize resources to achieve personal fulfillment and prosperity. The book focuses on how some can sabotage their own success with toxic perceptions of time and money and many more important insights.
Spano uses cutting-edge research in the field of human development to tap into suppressed truths of time and money perceptions.
"Prosperity has little to do with how much time or money you actually have," Spano said. "Prosperity is a mindset. It's a place to come from, not a place to get to."
The Pursuit of Time and Money offers realistic life application strategies and practices that help people: understand the relationship between time and money; develop awareness of the internal motivations that can drive behavior; explore the complex dimensions of time and money; let go of fear and scarcity; examine how stages of development affect choices; and pursue money and time in healthier ways so that they can produce greater joy and prosperity in their lives.
"Time and money often seem finite and limited resources," Greg McKeown, author of the New York Times bestseller Essentialism: The Disciplined Pursuit of Less, said. "However with the right resourcefulness, with the right mindset, our resources can become infinite. This is brilliantly illustrated in The Pursuit of Time and Money."
As a Certified Professional Integral Coach and business strategist, Dr. Spano is dedicated to helping others learn and implement new strategies for success and growth. Her research focuses on wisdom, adult development and leadership. Her passion is to help others realize their maximum potential and adopt new paradigms of thought and action that result in greater prosperity.
Those that pre-order The Pursuit of Time and Money will receive two bonus offers including a free digital copy of Dr. Spano's A Manifesto on Radical Abundance and access to The Time/Money Inventory.
To learn more about The Pursuit of Time and Money or to pre-order a copy, visit: thetimemoneybook.com.
###
Dr. Sharon Spano, Ph.D., is a business strategist, author and Certified Professional Integral Coach located in Heathrow, Fla. Spano offers individuals and businesses specialized expertise for those seeking independent consultation in a wide range of areas. Spano offers her services in business development, entrepreneurial and corporate business strategy, cultural transformation, employee engagement, life balance and stress reduction, communication strategy, time and money coaching, individual self-fulfillment coaching and more. Spano is an expert at helping companies reevaluate and realign strategy to foster an environment where high-performance, excellence and work/life balance coexist. Dr. Sharon Spano is an accomplished source of business and personal strategy with a passion for helping others grow.
For more information, visit sharonspano.com.
Source: Dr. Sharon Spano, Ph.D.
---
Categories: Books, Finance, Business
Tags: Business, Finance, Prosperity, Sharon Spano, The Pursuit of Time and Money, Wealth
---