Kids Science Labs Announces New Introduction to Chemistry and Physics Series
Press Release
•
updated: Aug 29, 2019
Award-winning Children's Hands-on Science and Innovation Centers - Kids Science Labs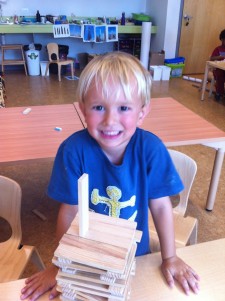 CHICAGO, August 29, 2019 (Newswire.com) - ​Kids Science Labs today announced an exciting new hands-on science series "Introduction to Chemistry and Physics" for children 3-12 years old.
This all-new series takes students on an adventure into the core concepts of Chemistry and Physics and applies them to real world experiences – from why trees can grow so tall to the chemistry and physics required to design running shoes. "Kids want to mix, build, break and explore. Early experience with hands-on science opens doors to problem solving and creativity and also builds an early interest in STEM careers," says Nina Tinucci, Director of Education.
This new series has been under development for two years. "We are very excited about our Introduction to Chemistry and Physics series, which provides kids an early advantage for understanding concepts they will see in high school and college," says Keith Norsym, co-founder at Kids Science Labs. "There is something deeply satisfying about solving a problem and being able to apply that new knowledge to the world around us – as Chemistry and Physics are intertwined in our daily lives."
Features and benefits include:
Children and parents have been requesting a fun and engaging introduction to real chemistry and physics to help prepare for school.
Studies have shown that early and regular exposure to science and problem-solving leads to long-term out-performance.
On average children receive 45 minutes of science instruction a week; classes at KSL are 75 minutes a week.
A STEM degree is just about the most valuable asset a young person can have in the modern economy.
The "Introduction to Chemistry & Physics" series will be available starting September 10 at all of their learning centers. For more information, visit www.kidssciencelabs.com.
About Kids Science Labs
What began as a single location in 2011 has grown into a nationally recognized brand that is teaching kids problem-solving, creativity and innovation. Started by two dads and engineers, Shegan Campbell and Keith Norsym, the science-learning centers run classes, camps, and events for children that enable them to explore their world through hands-on experiments all year round.
With computer programming and STEM fields expanding at rapid rates, parents and kids are searching for opportunities to gain an early advantage, even before preschool.
Since opening the first center in 2011, Kids Science Labs has taught over 100,000 students a year at their centers located in Chicago and Seattle. As the company continues to expand nationally, kids ages 2-14 years old are becoming better problem solvers and critical thinkers through hands-on science experiments. Parents see their children gain confidence and learn core science concepts all while having fun and exploring questions they are interested in.
Kids Science Labs is on a mission to enable the next generation of creative thinkers. Find out more.
www.kidssciencelabs.com
Source: Kids Science Labs