Kids Deserve the Truth About Drugs, Counselor Says
Press Release
•
Aug 19, 2016
A Johannesburg life coach used The Truth About Drugs to reach a young man who was bent on destroying his future—his addiction to sniffing glue was dominating his life. Her care and the no-nonsense approach of these materials combined to help the boy take stock of what he was doing and take control of his life, which is now taking a completely different direction.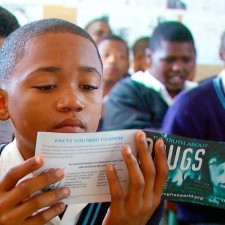 Johannesburg, South Africa, August 19, 2016 (Newswire.com) - ​Feedback from a mentor using The Truth About Drugs program shows the vital importance of drug education and the results produced by reaching young people with factual information about what drugs are and what they do.
This applies virtually anywhere on Earth, as the drug epidemic has permeated nearly every culture and every strata of society.
One example from Johannesburg, South Africa, shows how these materials, in the hands of a caring adult, can transform a young person's life.
"Well the program is quite genuine—it is not a fake. The material I find very easy to read—even the pictures you are using, they just bring reality in the faces of our young people.
"It is real, it is easy to use. Children understand it. It is colourful, it is not boring for these young people, and the video clips—they make the program more interesting.
"I have a lot of stories to share but I'll only pick up Mpho's story today.
"Mpho is 12 years old. When I met Mpho, he used to sniff glue almost every day. He would disappear for days and he would not even attend school the way he was supposed to and he would get beaten because he used to steal from people from the community and his mom wouldn't even know where he was for days.
"So when I first met him and heard all about what he was doing, I felt sorry for him because as I was asking him questions it was very clear to me that he had no idea about the danger he was just creating for himself.
"He mentioned that there is a voice inside of him. Whenever he wants to buy sweets for himself, then the voice would convinced him to buy glue instead. And so I started doing the lessons with him, showing him the videos, and he started to reconnect with reality bit by bit.
"I asked him what is the thing that he enjoys doing most. Football—it is his pride and joy and he is good at playing football. And so to encourage him, I bought him a new pair of soccer boots.
"Mpho has improved a lot. His life style is totally different and his mom is quite pleased with the improvement.
"I still see Mpho every week to keep on encouraging him to do what is good for his future and he's getting there day by day. And I do believe that one day he will turn out to be one of the greatest and the best football players in the world."
The Church of Scientology and its members support the Foundation for a Drug-Free World, one of the world's largest nongovernmental drug education and prevention campaigns.
It has been conclusively proven that when young people are provided with the truth about drugs—factual information on what drugs are and what they do—usage rates drop commensurately.
Read the article on the Scientology Newsroom.
Source: ScientologyNews.org
Related Media