Kickstarter Announced for TooDooly, an Interactive Family Dice Game and Weekly Organizer Made Fun
Get it done and have fun with TooDooly!
Press Release
-
updated: Nov 20, 2017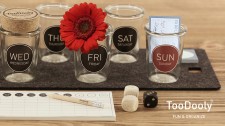 BERLIN, November 20, 2017 (Newswire.com) - TooDooly, an interactive fun family dice game and weekly organizer from Rocco Kruse GmbH, has been announced by its inventor, Rocco Kruse, who has launched a Kickstarter campaign for his creation that Kruse promises will not collect dust.
Recognizing that in today's busy world where many people find it challenging to fit time in with friends and family while still accomplishing all the tasks on their daily to-do list, Rocco Kruse has created TooDooly. 
TooDooly is a functionally designed dice game which can also be used to help you organize your week as well as divide chores between family members and friends. We all know that tasks and chores are the reality of life and sometimes not all that enjoyable. With TooDooly those dreaded to-dos can be made fun.
"In this day and age of digitalization and fast-paced life, I wanted to create a fun and collaborative game to bring families and friends together," said Rocco Kruse, inventor of TooDooly.
TooDooly - A THREE-IN-ONE SOLUTION 
A fun family dice game
Divide tasks between family and friends
Organize your week and share messages
Duration of the TooDooly Kickstarter Campaign: Nov. 21-Dec. 20, 2017
Any early Kickstarter supporters will receive up to 35 percent off the product!
Link to the TooDooly Kickstarter campaign:
About Rocco Kruse
Rocco Kruse is the founder of Rocco Kruse GmbH, a company and brand focused on creating high-quality and well-designed products. Being a designer and creative entrepreneur, he is always looking for new challenges. His work as a designer for over a decade has become an integral part of his business and company. 
For Media
Marketing materials and photos can be found via the Dropbox link below:
https://www.dropbox.com/sh/bzf3frvwqipm3ef/AAAQ0iR5T0TpruaNEpi8u-z1a?dl=0
For more information, please contact Rocco Kruse directly.
Contact Information:
Rocco Kruse
info@toodooly.com
+491782986151
https://www.toodooly.com
Source: Rocco Kruse GmbH
Share:
---
Categories: Games and Play, Hobbies and Crafts, Family
Tags: advent calendar, best game, boardgames, calendar, Christmas present, dice, dice game, divide tasks, fun, tasks, TooDooly, weekly organizer
---