Kicking Off a Happy and Clean Holiday Season in Hollywood
Press Release
•
updated: Nov 18, 2018
With the annual Christmas Parade one week away, volunteers join The Way to Happiness Foundation for a Hollywood neighborhood cleanup.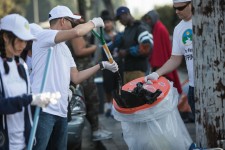 HOLLYWOOD, Calif., November 18, 2018 (Newswire.com) - With half a million expected to line the streets of Hollywood next week for the annual Christmas Parade, volunteers who gathered at the Church of Scientology Celebrity Centre Nov. 17 were inspired to make the neighborhood shine.
The Hollywood Neighborhood Cleanup is a monthly tradition. Volunteers team up to clean the Hollywood streets and distribute copies of The Way to Happiness, the common-sense moral code anyone may use to chart a course for a happier life.
This month, a group of USC Academy service-learning students joined local neighbors and members of the Church of Scientology for the cleanup that began with doughnuts and coffee at 9 a.m. at the Church of Scientology Celebrity Centre, where volunteers, accompanied by three LAPD officers, organized into groups and took off to locations around the neighborhood.
In addition to collecting 25 bags of trash including food wrappers and cigarette butts, volunteers also disposed of 32 used syringes and other drug paraphernalia. And they visited encampments, where they encouraged the homeless to join in the cleanup effort.
After the cleanup, they handed out hundreds of copies of The Way to Happiness.
"The holidays are a time to come together, help one another and brighten and uplift the community, which is what we work to do with these monthly cleanups," said Bari Berger, spokesperson for the cleanup. "We reach out to take responsibility for our neighborhoods and those in them who are most in need."
Volunteers then headed back to Celebrity Centre for refreshments, donated by community partners including Kettle Glazed doughnut shop and Oaks Gourmet Market.
The monthly cleanups are a partnership between the Church of Scientology, The Way to Happiness Foundation and the Los Angeles Police Department. The next cleanup is scheduled for Dec. 15. Everyone is welcome to participate.
Source: ScientologyNews.org
Related Media