Kickbox Leasing, LLC is Doing Their Part in the Fight Against Breast Cancer
Press Release
•
updated: Oct 17, 2020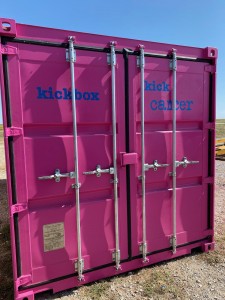 LUBBOCK, Texas, October 17, 2020 (Newswire.com) - North Texas-based Kickbox Leasing, LLC is doing their part in the fight against breast cancer, by way of shipping containers. October profits from container sales will be donated to the National Breast Cancer Coalition. Kickbox has customized several 20' shipping containers with the iconic pink paint representing the fight against breast cancer. The woman-owned portable storage and custom container builder has had experience in dealing with the deadly disease. "A few years ago, a family member was diagnosed and went through the treatment process. Her courage has been an inspiration for us to join the fight," says owner, Maegan Balog.
Five-hundred dollars from the sale of each custom painted container will go to the coalition before the end of the year. All companies and individuals who purchase these units will have their information shown on all Kickbox social media platforms and be given a first look at future custom builds. They will also receive a coupon for $10 off monthly rental good for up to 5 portable storage containers and up to a one year rental each. The client will need to take possession of lease units before Jan. 15, 2021, to receive the monthly discount. To purchase one of the pink containers or to further inquire about products and services offered by Kickbox, send a message to sales@kickboxleasing.com.
About National Breast Cancer Coalition: stopbreastcancer.org One of the largest and most influential breast cancer charities in the U.S. The National Breast Cancer Coalition (NBCC) started in 1991. The NBCC's mission is to figure out how to end breast cancer by 2020. The charity comprises activists, survivors, researchers, lobbyists, and policymakers. The NBCC has over 60,000 members and has successfully advocated for more than $3 billion in federal research funding.
About Kickbox Leasing, LLC: kickboxstorage.com Wholesale container office fabricator turned storage container leasing company and mobile office provider; Kickbox provides leasable storage containers, mobile offices, and custom sea container structures. Kickbox containers can be found in oil and gas, medical, construction, retail, promotional, and manufacturing industries. Custom build-outs include portable safety offices, guard shacks, laboratories, COVID testing centers, commercial office spaces, pop-up retail shops, bars, fitness studios, indoor grow facilities, industrial workspaces, and equipment enclosures. KB is a Texas Licensed Industrialized Builder and a woman-owned small business whose owner-family has served the fine people of West Texas and the Permian Basin in the service industry for three generations.
Source: Kickox Leasing, LLC
Tags
Additional Links