Kentucky Small Business Borrowing Stalls in January: PayNet
Press Release
-
updated: Mar 22, 2018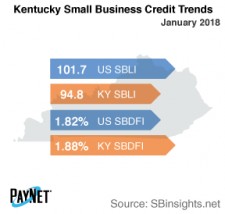 Frankfort, KY, March 22, 2018 (Newswire.com) - PayNet, the leading provider of small business credit assessments on private companies, announces that in January 2018 borrowing is sluggish in Kentucky. Of the 18 major industries, 7 rose and 11 declined in the state.
Coming in at 94.8, Kentucky's PayNet Small Business Lending Index (SBLI) performed comparably to last month's state level, but was 6.7% below the national SBLI level of 101.7 this month. The index is basically unchanged from a year ago.
Wholesale Trade (25.6%); Construction (7.1%); and Transportation and Warehousing (6.4%) were the three industries with the most favorable performance over the past year in Kentucky. Nationally, Wholesale Trade grew by 3.8% year over year.
PayNet's Small Business Default Index (SBDFI) for Kentucky registered at 1.88%. After a similar performance to the previous month, Kentucky's SBDFI was 6 basis points above the national SBDFI level of 1.82%. Kentucky's SBDFI climbed 9 basis points year-over-year, whereas the national SBDFI improved 2 basis points.
"Time will tell how these conditions will affect Kentucky's economy going forward," asserts the president of PayNet, William Phelan.  
Source: PayNet, Inc.
---
Categories: Economy
Tags: Credit Trends, SBDI, SBLI, Small Business
---