Kentucky Peerless Launches High Rye Bourbon
Press Release
•
Mar 22, 2023
Kentucky Peerless announces the release of their High Rye Bourbon. The release will take place at the Peerless distillery at 120 North 10th Street, Louisville, KY 40202 on Saturday, April 15, 2023. Bottles will be available on a first-come-first-served basis. Bottle signings will be offered throughout the event. The first 200 bottles sold will be specially labeled and hand-numbered.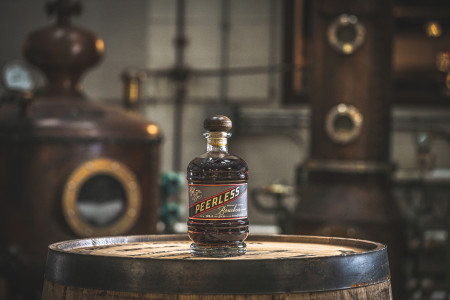 LOUISVILLE, Ky., March 22, 2023 (Newswire.com) - Peerless High Rye Bourbon is the first Peerless release to be crafted with a wholly unique mash bill since their Peerless Bourbon and Peerless Rye. Up until this release, the Peerless mash bill has remained consistent through their Bourbon and Barrel Finished Bourbon offerings. The new mash bill introduces a higher rye content than previous Bourbon offerings.
This Peerless High Rye Bourbon release offers a savory nose highlighting warm seasoned oak, leather, and citrus. Cedar, dark fruit, and sweet grasses further develop the complex aroma. The first sip boasts candied oak topped with toasted sugar and charred orange. A bright tea freshness emerges from the sweetness and a thick mouthfeel. Another sip adds warm leather and rich tobacco to the profile. The competing sweet and earthy notes tussle in an exciting finish.
After the success of their various award-winning Bourbon and Rye expressions, Peerless continued to innovate with an altered mash bill, ultimately making the High Rye Bourbon expression a regular offering. Find out more at kentuckypeerless.com or visit the distillery at 120 N. 10th Street in downtown Louisville. The distillery is open for tours and tastings by reservation Monday through Saturday, 10 a.m. to 5 p.m.
About Kentucky Peerless Distilling Co. After beginning barreling in 2015, the Taylor family has been patiently crafting one barrel at a time. Corky Taylor, Fourth Generation and CEO has been breathing life back into his great-grandfather's legacy that originally started in 1889. Peerless released their first Bourbon in 102 years, standing true to what the first generation once started. The Taylor family has taken no shortcuts in crafting quality whiskey surpassed by none. All under one roof in Louisville's Bourbon District, the select grains are milled, cooked, fermented, double-distilled, and barreled as bourbon and rye.
Contact: Kentucky Peerless Distilling Company
120 North 10th Street, Louisville, KY 40202
For press inquiries: cadie@kentuckypeerless.com
For Peerless High Rye Bourbon elements, visit: https://bit.ly/Peerless-High-Rye
Like or follow Peerless on Facebook | Instagram | Twitter | YouTube
Source: Kentucky Peerless Distilling Company