Kensium Client, Avante Health Solutions, Wins Acumatica Customer of the Year for 2023
Press Release
•
Jan 30, 2023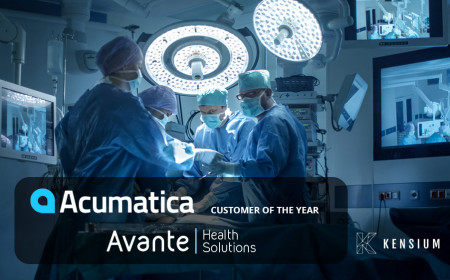 CHICAGO, January 30, 2023 (Newswire.com) - Kensium proudly shares that their client, Avante Health Solutions, has been announced as the Acumatica Customer of the Year 2023. This award highlights the accomplishments of Kensium's work with Avante Health to implement Acumatica's ERP solution, creating a "single source of truth" to bridge platform management across many branches and specialties.
Avante Health Solutions is a single-source medical, surgical, and diagnostic imaging equipment provider, including sales, service, repair, parts, refurbishing, and installation. Six branches of the Avante organization offer these services to meet the needs of hospitals, clinics, and medical practices across the United States. Because each branch has its customer base, goals, and sales targets, Avante Health Solutions required a consolidated view of how each branch accomplished its goals and impact. They also desired more collaboration between branches and a solution to the disparate data that made reporting difficult.
To meet their needs, Kensium implemented Acumatica, a modern, cloud-based ERP that integrates with each branch and creates a single source of truth for the entire organization. In addition, Kensium developed custom reports and dashboards for real-time monitoring of Avante Health Solutions operations. Acumatica's ERP made this possible by providing a flexible, customizable solution to centralize disparate systems and create a 360-degree view of the organization.
Kensium utilized Acumatica's robust set of modules to increase visibility across each branch, collect sales and service data, streamline operations within each branch, and generate custom reports based on a real-time data sync between front-end and back-end systems. With Acumatica, Kensium could leverage Acumatica's features to integrate Cash Management, Accounts Receivable, Purchasing, Inventory, Sales Orders, and Deferred Revenue in the following modules to satisfy Avante Health Solutions' business goals. In addition, they also leveraged modules for Tax Management, Contract Management, Customer Relationship Management, Field Services, Work Order Processing, and Rental Processing to bring the solution into a comprehensive platform that enabled Avante's continued success and growth.
Kensium worked closely with the project stakeholders to document the business processes and find the right balance between existing processes, Acumatica's best practices-based systems flow, and new, innovative ideas. In addition to enabling Avante's continued, aggressive growth, Kensium also created a standardized implementation process for each branch to meet the complex and aggressive implementation goals of Avante's senior management.
Our Kensium's relationship with Avante Health Solutions continues into 2023 with the integration of Acumatica's Project Accounting and Billing modules in Q1. To streamline operations and provide best-in-class service, our Kensium's Implementation Delivery team members travel for onsite sessions to work with Avante to identify new opportunities, leveraging Acumatica further and improving their processes. Through this collaborative work, these meetings have established many process improvements identified and implemented over the past 12 months by utilizing existing features and sometimes adding new features like Project Accounting.

"Avante has been an incredible partner over the years. They use every aspect of Acumatica as a technology platform they can rely on and leverage for growth and innovation. Acumatica has become an integral part of their success, and we have been privileged to work with them to help them get there.
We look forward to the future, where we can discover new ways to help Avante continue its incredible trajectory together. Congratulations, Avante!"
- Paul Prickett, CEO, Kensium
About Acumatica
Acumatica is a leading cloud business management software provider that empowers small and mid-size businesses to unlock their potential and drive growth. Built on the world's best cloud and mobile technology and a unique customer-centric licensing model, it delivers a suite of fully integrated business management applications, such as Financials, Distribution, CRM, and Project Accounting, powered by a robust and flexible platform.
About Avante Health Solutions
Avante Health Solutions is a single-source medical, surgical, and diagnostic imaging equipment provider. This includes sales, service, repair, parts, refurbishing, and installation. Avante is making it easier and more affordable for every hospital, clinic, and medical practice to have the best equipment, supplies, and service. www.avantehs.com
Source: Kensium