Ken Sutiak Devotes Time to ASPCA in Helping Animals
Press Release
•
updated: Sep 15, 2017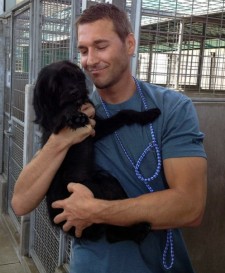 TOTOWA, N.J., September 15, 2017 (Newswire.com) - ​Millions of Americans devote their time and energy each year for the well-being of animals all over the country. But one local man, Ken Sutiak, takes pride in the fact that he has helped raise money and while starting as just a volunteer, has turned into a donating member.
When volunteering, Ken Sutiak has focused his attention on advocacy efforts within The American Society for the Prevention of Cruelty to Animals (ASPCA). The time commitment for volunteers in this department of the ASPCA are requested to participate in activities for approximately four hours per month for a three-month period.
It's great to see the numbers decline, knowing animals are finding homes and staying out of shelters.

Ken Sutiak
The responsibilities of an advocacy volunteer are helping the Government Relations team with advocacy efforts including phone banking, drafting letters to the editor, helping to organize advocacy events and meetings, driving social media campaigns, distributing and gathering information at public tabling opportunities are leading direct lobbying efforts.
Ken Sutiak is a regular when it comes to local meetings for the ASPCA, believing it starts with bringing awareness to your neighbors and community members.
"Local advocacy meetings are so important," says Ken Sutiak. "Being in a room filled with people are so interested, capable and committed to animals is very empowering."
The ASPCA holds these special meetings throughout the year to share best practices with advocates and provide them with concrete actions they can take right from their homes to secure their legislators' support or opposition to a bill and encourage their friends and neighbors to speak up for animals, too.
The organization is active in lobbying for animal welfare legislation, with regional and federal lobbyists covering all 50 states. The ASPCA communicates with federal and state legislators to consider animal-friendly legislation and bills. The ASPCA also drafts animal welfare legislation initiatives and proposals for legislators to consider during their sessions. The ASPCA's "Advocacy Brigade" allows users to write or e-mail their legislators on important legislation bills and referendums.
"Communicating with government members is an important step to helping animals around the country," Ken Sutiak adds. "Their voices need to be heard and we provide that voice for them. I have been focusing on companion animal issues and the programs associated with those type of animals and their owners."
For example, in New York, the efforts of advocacy volunteers led to the formation of the ASPCA's Humane Law Enforcement division, which has powers to investigate cruelty and enforce laws. The Humane Law Enforcement division has been featured on the Animal Planet television program, Animal Precinct, which has brought more attention the cause.
While Ken Sutiak donates many hours to advocacy rights for animals, he is also a regular donor. With his donations, he knows many shelters and services around the country will get the financial help they need to continue the care of animals. The donations also ensure many animals find loving homes and families.
The ASPCA reports approximately 6.5 million companion animals enter U.S. animal shelters nationwide every year. Of those, 3.3 million are dogs and 3.2 million are cats. They estimate the number of dogs and cats entering U.S. shelters annually has declined from approximately 7.2 million in 2011. The biggest decline was in dogs (from 3.9 million to 3.3 million).
"It's great to see the numbers decline, knowing animals are finding homes and staying out of shelters," Ken Sutiak explains. "Our donations and time are working each and every year. It's very rewarding to hear the stories of these animals finding homes. It motivates you to do more and more for the ASPCA."
The ASPCA's mission, as stated by founder Henry Bergh in 1866, is "to provide effective means for the prevention of cruelty to animals throughout the United States."
They are a privately funded 501(c)(3) not-for-profit corporation and have more than 2 million supporters across the country.
Source: Web Presence LLC