Keep It Clean Naturals Makes Jump Into Cosmetics Industry With Launch of Signature Collection
Customers shocked and excited at Keep It Clean's announcement of new direction this summer. Products expected to sell out in record time.
Press Release
-
updated: May 14, 2019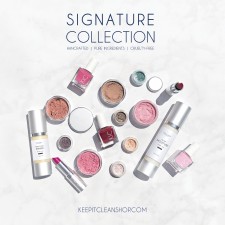 YOUNGWOOD, Pa., May 14, 2019 (Newswire.com) - ​​​​​Keep It Clean Naturals is adding cosmetics to their summer lineup with the introduction of their Signature Collection, to be released on May 18, 2019.
Known for providing high-quality natural skincare, Keep It Clean helps naturally minded women to feel confident in the ingredients they use on their skin every day.
"I am beyond thrilled to provide our loyal customers with not only a new line but essentially multiple lines housed under a whole new umbrella," said Bethany Schroder, CEO, company founder and product designer. "We are adding an entirely new branch to the business, and our current customers are so excited to see us take the high standards we've always held for our products and apply them to the cosmetics industry."
The company's inaugural line introduces 50 products across 12 new product categories.
Like their already renowned skincare, haircare, bath and body, and 10-free nail polish, each product in Keep It Clean's cosmetics line will be individually handcrafted by the designer herself, using organic oils, natural minerals and pure pigments sourced from trusted suppliers. Keep It Clean never tests their final products on animals and utilizes suppliers who also stand against animal testing, many of which are Leaping Bunny Certified.
The cosmetics are designed to showcase women's natural beauty with fresh, pure ingredients that help women to look and feel their best organically.
Products come in an array of colors to offer versatility in keeping up with current makeup trends.
The collection also includes three new nail polish colors, which will join the already existing 35 shades, as well as a reinvented daily moisturizer that delivers quick-absorbing hydration with a silky, lightweight feel.
The Signature Collection will include: 
Mineral Foundation (available in 12 shades) - $30
Mineral Eyeshadow (available in 10 shades) - $15
Moisture-Rich Lipstick (available in seven shades) - $18
Mineral Blush (available in four shades) - $15
Mineral Highlighter (available in two shades) - $18
Flawless Finish Setting Powder - $18
Mineral Eyeliner - $15
Creamy Concealer (available in two shades) - $15
Perfect Start Primer - $28
All Day Moisturizer - $34
Lash Conditioning Serum - $32
Honey Lips Lip Gloss (available in four colors) - $16
10-Free Nail Polish (three new shades available in addition to 35 already popular colors) -$10
The Fresh Faced Collection, ranging in price from $15 to $34, will be sold exclusively on the company's website, keepitcleanshop.com, and at the Ligonier Country Market, Saturdays from 8 a.m. to noon, where the limited products are scheduled to sell out by the end of the season.
Bethany is excited to welcome her fans to her new, long-awaited handmade cosmetics collection.
Contact Information
For more information about the Signature Collection or for an interview with Bethany, please write to bethany@keepitcleanshop.com. Media high-res photos are available upon request.
About Keep It Clean Naturals
In 2013, as a nursing mother to her second child, Bethany determined to make herself more aware of toxic ingredients in the products lining her bathroom shelves.
Shocked at the amount of toxins in the conventional products she was using on a daily basis, she made the decision to ditch and switch all of her own skincare and bath and body products for homemade ones, passing along many of her new products to family and friends. By the following spring, at the urging of everyone who had tried her products, Bethany was determined to share with the world what she and those closest to her had already been enjoying for nearly a year.
Attending a craft fair in April 2014 with just a few homemade deodorants packaged in her son's recycled baby food jars, Bethany quickly became aware of the overwhelming demand for more natural options. The tremendous buzz surrounding her products prompted her to expand the business rapidly to meet the growing need of her customers.
Since the start, Bethany has committed to donating a portion of Keep It Clean's annual proceeds to missionaries, ministries and organizations who work directly with those affected by human trafficking, abuse and homelessness. In this way, the company aims to not only help its customers to feel confident in their own skin but to also extend an arm of hope and love beyond the borders of the business.
After many years of creating products by hand, gaining a loyal online and local following and supporting local and global ministries, Keep It Clean's products have garnered attention and high praise amongst the natural skincare industry.
Related Links
keepitcleanshop.com
Source: Keep It Clean Naturals
---
Categories: Beauty and Cosmetic Products
Tags: 10-free nail polish, artisan beauty products, artisan cosmetics, artisan skincare, cruelty-free cosmetics, handmade cosmetics, mineral cosmetics, natural bath and body, natural cosmetics, natural skincare, non-toxic nail polish, pure cosmetics
---