KDG and HCD to Perform Real-Time Polling With Their DebateRate App During the Democratic Debate
KDG and HCD Research will be performing real-time polling during the April 14 Democratic debate with their DebateRate app. DebateRate is a free app available on Android and Apple platforms.
Press Release
-
Apr 12, 2016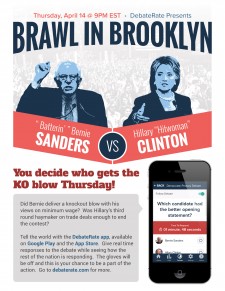 Allentown, PA, April 12, 2016 (Newswire.com) - ​​​​​During the critical April 14 Democratic Primary debate in Brooklyn, NY, KDG, with offices in Washington D.C. and Allentown, PA, and its partner, HCD Research of Flemington, NJ, a nationally recognized customer research firm, will be collecting real time polling data with its free DebateRate app.  
After installing the app, DebateRate users can answer survey questions in real-time, as the debate is happening.  After responding to a survey question users will be then be able to see the responses of other DebateRate users. This technology will allow KDG and HCD to do things such as: immediately gauge the response to both candidates attack lines and find out who app users believe won each round of the debate.   
DebateRate is an outgrowth of KDG and HDC Research's work during the 2008 presidential election when they performed real-time polling through text services.  The app is a natural evolution of this and a step towards quicker and more accurate political polling.  
Both companies have been furiously pushing to increase DebateRate's user base ahead of the Thursday Debate.  KDG has street teams distributing thousands of flyers advertising DebateRate and HCD has announced the availability of the app to a large cross section of its database in preparation.
Built on an expedited development schedule using the appery.io platform, DebateRate is a passion project of KDG CEO, Kyle David, and HCD Research President and CEO, Glenn Kessler.  Both see DebateRate as the future of polling.  This technology will allow pollsters to immediately collect data and craft questions on the fly, in response to a constantly shifting political landscape.
"Real-time, large sample, digital polling is the next frontier in political polling.  With DebateRate we will be able to take the first steps into this new realm in a way that provides the lowest barriers to potential participants," said Kessler.  
KDG and HCD will be pushing survey questions to app users throughout the debate and will be presenting detailed data and analysis afterwards.
DebateRate is available on Google Play and the Apple App Store.   
About KDG: KDG is a high-tech consulting firm headquartered in Lehigh Valley, PA with satellite offices in Washington, D.C. For more than a decade, we have developed and implemented advanced technology solutions for our clients in the commercial, government, health care, retail, education, and nonprofit sectors. We deliver game-changing results for our client organizations by holding ourselves accountable to one key goal: providing a strong return on their investment. Our unique methodologies and broad industry experience have afforded us the amazing opportunity to work with some extraordinary organizations and to aid in their growth. We would love to bring this experience to work for you! www.kyledavidgroup.com
About HCD Research: HCD Research is a marketing and consumer sciences company that provides expert recommendations by employing traditional and applied consumer neuroscience to optimize the design of market research projects for our clients.
We are "methodologically agnostic" and approach each client inquiry as a unique market research challenge. Our customized solutions employ the most appropriate research tools based on your specific objectives. These tools can include traditional research, psycho physiological measures, psychological testing, or a synergistic combination of these methods.  www.hcdi.net
Contact: Susan Brown sbrown@kyledavidgroup.com 484.550.6067
Source: KDG
Share:
---
Categories: Elections, Mobile and Smart Phones, Web 2.0, Information Technology, Political Science
Tags: Allentown, app development, appery.io, Democratic debate, election, Lehigh Valley, Lehigh Valley business news, Lehigh Valley tech news, lehigh valley web design, mobile app, polling
---