KC HILITES Launches M-RACK Performance Roof Racks
KC HILITES, Inc. announces the launch of KC M-RACK performance roof racks for Jeeps, Trucks, Emergency and Industrial Vehicles.
Press Release
-
updated: Oct 31, 2017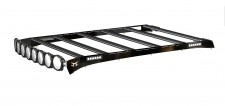 LOS ANGELES, Calif., October 31, 2017 (Newswire.com) - KC HILITES, Inc. announces the launch of KC M-RACK performance roof racks. KC M-RACKS is blueprinted uniquely for each vehicle featuring a precise fit and contour, lightweight aluminum construction and low profile clearance. KC M-RACKS are designed with quality materials to meet and exceed heavy load requirements while allowing customization with accessories like built-in LED lighting. Engineered and manufactured in the USA, KC M-RACKS is leading the forefront of roof rack design where form, fit and function collide.
Through the M-RACK product line, KC expands on its mission to bring performance built and rigorously tested products to its generations of adventure driven customers. "We have created some very disruptive LED products and technology and are excited to give customers an opportunity to expand their use of KC lights. Naturally, M-RACK is a platform for us to further elevate our engagement with our customer's adventures," says Alan Wang, Managing Partner at KC.
From Jeeps and Trucks to Utility, Emergency and Military vehicles, KC M-RACKS' easy to install products will exceed all cargo and storage needs. Combined with performance lighting upgrades, M-RACK gives customers turnkey solutions to tackle even more with their vehicles. "M-RACKS was created to deliver a sleek design that is custom fit for every vehicle while maintaining the functionality that every vehicle adventurer craves. The M-RACK combined with KC LED lighting produces a one of a kind combination for every vehicle enthusiast," says Eric Wright, Co-Founder at KC M-RACK.
KC M-RACK SKUs will include roof racks, roof rack kits with LED lighting and other modular roof rack accessories. All of KC's lighting and roof racks are available for purchase directly from KC as well as its authorized distributors worldwide.
About KC HILITES, Inc.
Since 1970, KC HILITES has been manufacturing auxiliary performance lighting for off-road vehicles. Our mission is to deliver performance built, rigorously tested lighting solutions to consumers all over the world. We are committed to placing ingenuity, quality and value at the heart of every KC product and delivering unmatched levels of customer service and support.
KC M-RACK Inquiries
Phone: 888-689-5955​
​Email: info@kchilites.com
Source: KC HILITES, Inc.
Share:
---
Categories: Automotive, Hunting and Fishing, Industries
Tags: jeep roof rack, led lighting, roof rack, truck roof rack, vehicle roof rack
---